Scenic USA - Arizona

Tombstone
---
---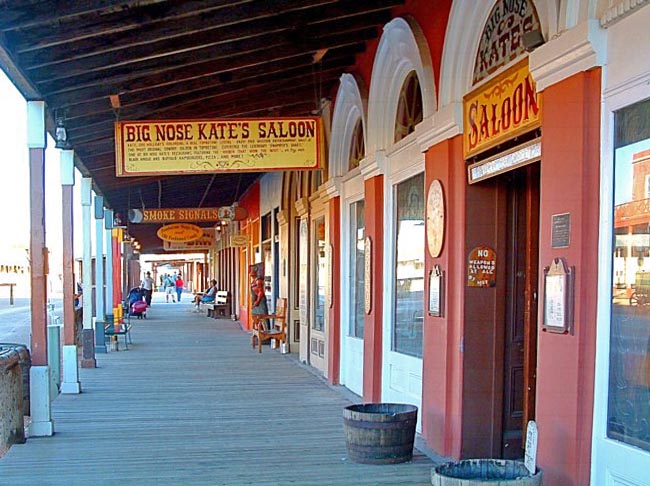 Photos by Rodney Walker and Ben Prepelka

Raucous Tombstone, forever known as the town too tough to die, boasted of 14 gambling halls and 110 saloons during its heyday. It all began during the 1870s when Indian scout Ed Schieffelin was scouring Apache country for rocks. Ed's friends suggested the only rocks that he'd ever find would be his own tombstone.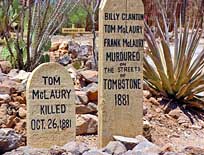 Not long afterward word leaked out about a new silver claim in San Pedro Valley. Apparently Ed Schieffelin's luck had changed, and when hearing the news thousands of prospectors poured into Cochise County. And the town of Tombstone was born!
The rough and rowdy mining town needed law and order and the Earp brothers stepped in to provide it. This quasi group of lawmen brought their own brand of justice to Tombstone. Hollywood would turn the renowned gunfight at O.K. Corral into one of the best known tales of the West. Here in Tombstone the Boot Hill Cemetery is filled the graves of nearly a dozen lawbreakers and legends of the West. This famous burial ground was used until 1884 when the New Tombstone City Cemetery was opened.
A two story courthouse, built in 1882, heard all of Cochise County's legal affairs. Providing offices for the sheriff and other town officials, the courthouse included a well-built jail. However its history was short lived and closed its doors just 40 years later. Tombstone, another town which relied solely on mining profits, faded from a peak of 7500 residents to only 150 by 1930. The abandoned courthouse was rescued by the Tombstone Restoration Commission in 1955. Brought back to life, the courthouse now contains historic artifacts and elements of glitter from the Old West.
An elegant hotel in its day, the Grand Hotel opened its doors in 1880.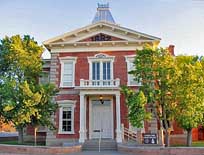 During its first few years the hotel often housed some of Tombstone's most famous residents, including Wyatt and Virgil Earp, and Doc Holliday. The Clanton Gang, including Ike Clanton and the two McLaury brothers, were registered guests the night before the famous OK Corral gunfight. Once decorated with walnut furniture, rich carpeting, expensive oil paintings and exquisite chandeliers, the Allen Street hotel is now known as Big Nose Kate's Saloon. Named after one of Tombstone's more colorful characters, Kate's story began in Fort Griffin, Texas. Born Mary Katherine Horony, Big Nose Kate is thought to have helped Doc Holiday escape jail in Texas. The two of them headed west, surviving on Doc's gambling winnings and Kate's womanly charm. Today, the Tombstone story comes alive with pages of the most fascinating fork heroes and captivating tales of the wildest town in the West!

Area Map
Walking Tour Map
---
| | |
| --- | --- |
| Additional Points of Interest | |
---
Copyright © 2006-16 Benjamin Prepelka
All Rights Reserved