Scenic USA - Arizona

Montezuma Castle
---
---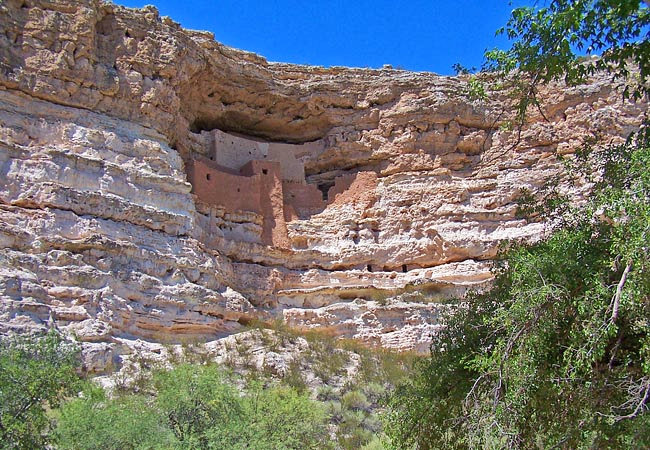 Not far from Interstate 17, a five story high-rise was intricately built into a niche of a towering limestone cliff centuries ago.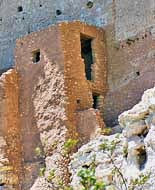 Among the first National Monument sites preserved by the passage of the President Roosevelt's Antiquities Act, Montezuma's Castle was identified as a place of the greatest ethnological value and scientific interest. Although most of the original artifacts were looted from the site, Montezuma's Castle was proclaimed a National Monument on December 8, 1906.
The cliff dwelling, a well preserved display of stonework and adobe construction, is neatly fitted on a limestone shelf overlooking Beaver Creek. Early European explorers, erroneously applying the name Montezuma to the dwelling, may have been familiar with Aztec ruler's name. The Aztec civilization, located in northern Mexico, may have been close enough to Camp Verde to make this connection.
The 12th century Castle was home to Sinagua Indians, where they lived for over 400 years. Like many other Southwestern Puebloan Tribes, the Sinagua disappeared about 600 years ago. Leaving behind a wealth of artifacts, excavations in 1933 greatly enhanced our understanding of the Sinagua people. Early visitors to the monument were allowed to climb to the structure by way of a series of ladders. But after I-17 was completed there were so many visitors that access to the ruins was discontinued.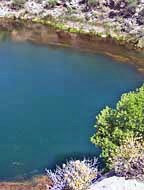 Today visitors, approximately 350,000 a year, must browse through the visitor center exhibits or the NPS photo gallery for a fuller appreciation of the 65 room pueblo ruin.
Located about 11 miles from the Montezuma's Castle National Monument, visitors may also be intrigued by the chain of life at the Montezuma Well. Due to heavy concentrations of dissolved carbon dioxide, nearly 600 times higher than most other aquatic environments, Montezuma Well contains no fish. Instead, the spring-fed sinkhole has a unique aquatic habitat, primarily made up by a symbiotic relationship between algae and tiny shrimp-like animals called amphipods. Night-swimming scorpions and leeches feed on these tiny amphipods, attracting even larger predators. Most active at dusk and dawn, visitors may see squirrels, snakes, raccoons, muskrats, skunks and foxes around the collapsed limestone sinkhole.

Area Map
---
Additional Points of Interest
---
Copyright © 2006-15 Benjamin Prepelka
All Rights Reserved