Scenic USA - Connecticut

Fayerweather Island Lighthouse
---
---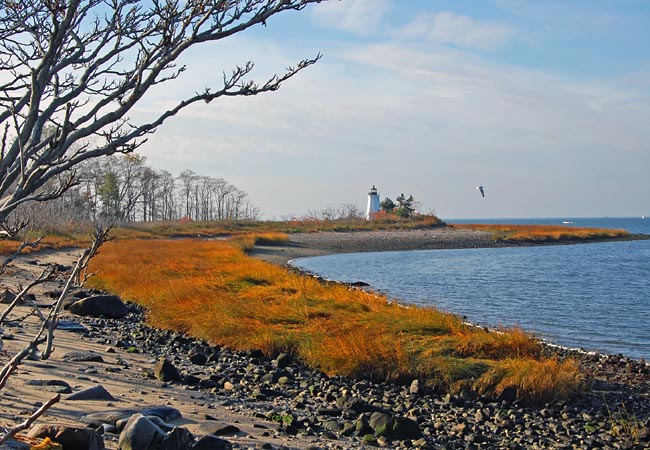 Those familiar with New York City's Central Park history will easily recognize the names of landscape designers Frederick Law Olmsted and Calvert Vaux.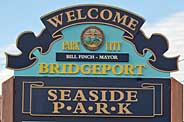 These well known 19th Century designers also applied their skills to Bridgeport's Seaside Park. First envisioned by the famed P.T. Barnum, this section of Connecticut's Long Island Sound coastline began to take shape in 1865.
   The seaside park, found on the western edge of the sprawling city of Bridgeport, takes in three miles of shoreline and a delightful section of green rolling hills and thinly wooded glades.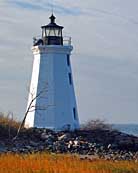 The city went on to acquire the western beach and Fayerweather Island in 1911. When the U. S. Coast Guard deserviced the lighthouse on Fayerweather Island in 1933, the keeper's quarters and lighthouse were also deeded to the city of Bridgeport.
   At one time, rural farms stretched all the way to the rock strewn shoreline. Today this broad sand beach attracts beach-goers and anglers. A half mile stone breakwater extends out to Fayerweather Island, where the 1820s lighthouse still looks over the entrance to Black Rock Harbor. The original lighthouse, built in the early 1800s, was flattened by a ferocious hurricane in 1821. Today's 41 feet tower, kept in repair by the local citizens, has seen its share of vandalism. Graffiti proof paint and a vandal resistant steel lantern-room glass spurs on the hopes that the wild partying crowd will be kept at bay. Speaking of graffiti, it seems that every teen in Bridgeport has applied his or her signature on the long breakwater walkway.

    Area Map
---
| | |
| --- | --- |
| Additional Area Attractions | |
---
Copyright © 2011-16 Benjamin Prepelka
All Rights Reserved