Scenic USA - Florida

Gamble Plantation
---
---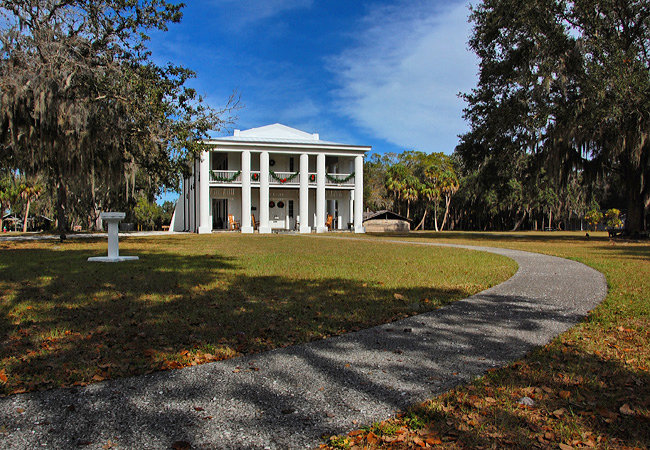 The Gamble Plantation and sugar mill, one of the few remaining Florida's plantations, is located in Ellenton about 30 minutes south of Tampa. Once covering nearly 3500 acres,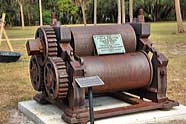 the historic site preserves the only antebellum mansion in south Florida, including a 15 acre park.
After the Second Seminole War, settlers were encouraged to move into the Florida frontier with provisions in the Armed Occupation Act of 1842. Similar to the Homestead Act, Major Robert Gamble Jr. took advantage of the offer and claimed 160 acres along the Manatee River. Here on the Florida peninsula,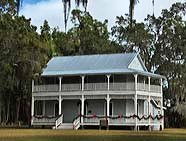 Gamble's plantation grew quickly and produced large amounts of sugar. Using slave labor and local craftsmen, Gamble built a large, two story mansion. Designed in the Doric Revivalist Vernacular, its huge columns, two foot thick walls and 40,000 gallon cistern (adjacent the mansion - right) were constructed of a unique regional material called tabby. Created from oyster shells (crushed and heated to form lime), sand and water, the mixture was poured into forms similar to today's concrete. Despite the large scale operation utilizing slave labor, Gamble sank deeply into debt and was forced to sell the plantation in 1856, just 12 years after his arrival.
The sugar mill was destroyed during the Civil War and the mansion and grounds were bought for taxes in 1872 by George Patten.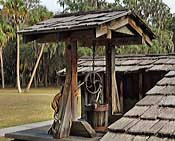 Built between 1845 and 1850, the mansion had deteriorated to a point where Patten felt it best to build a new home (inset) on the site. In 1925, the Daughters of the Confederacy raised enough money to rescue the mansion and conveyed it to the state during the following year. The Gamble Mansion restoration was completed in 1927. Guided tours are held six times a day, Thursday through Monday. The park, also a memorial to Judah P. Benjamin of the Confederacy, is open from 8 am until sundown every day. The visitor center and mansion tours follow a standard schedule and are closed during major holidays.

Area Map
---
| | |
| --- | --- |
| Additional Points of Interest | |
---
Copyright © 2012-15 Benjamin Prepelka
All Rights Reserved