Scenic USA - Oregon
Scenic USA offers a collection of select photographs from a wide variety of historic sites, points of interest, and both state and
national parks found throughout the United States. Each photo feature is coupled with a brief explanation.
For further detailed information, links to other related sites are provided, but in no means are they an endorsement.
Colliding Rivers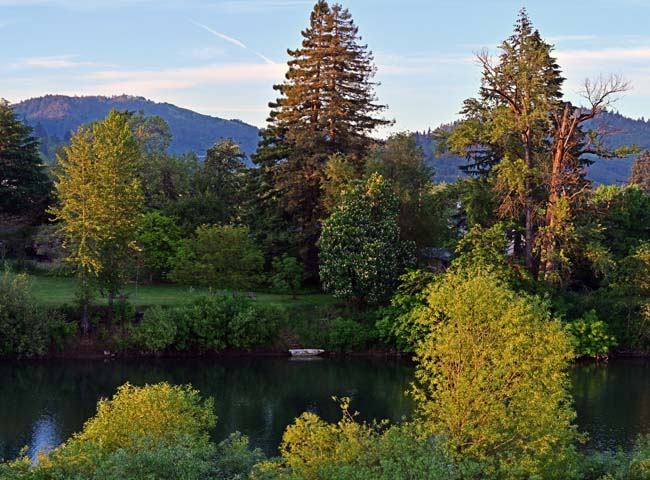 Photo by Ben Prepelka
Inset photos by Denny Barnes
Climbing up from I-5,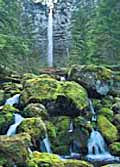 through a heavily forested section of the Cascade Mountains, Oregon's highways 138, 234, 62 and 230 trace two of the state's most scenic rivers. Starting out from Roseburg, a town with its roots in the lumber industry, the Rogue-Umpqua Scenic Byway heads eastward toward Glide, famous for two colliding rivers. Pictured here is a view from the rest area were the North Umpqua meets the Little River head on. Under flood conditions, the Little River and the North Umpqua River join in a violent collsion. During a late summer flow, as in this scene, the rivers join in a common pool. Built in 1938, the freshly refurbished ranger station is used as a visitor center. A nature trail and overlook provide great views of this unique geologic phenomenon.
Following the North Umpqua River on the Highway of Waterfalls, continue on Route 138 eastward, where it reaches Mount Thielsen, Diamond Lake and Crater Lake National Park.

From the Crater Lake area, the byway begins to follow the Rogue River's rapid plunge to the southwest. Here the wild and scenic Rogue River thunders through deep, narrow chasms, shaded with thick evergreens.
Fly fishing anglers, whitewater enthusiast, and vacationers are guaranteed to enjoy the dramatic sights and sounds along this 172 mile byway. Photographers and artists are also captivated by these awe-inspiring rivers and gorges. Clearwater Falls, Watson Falls, Susan Creek Falls and Fall Creek Falls are few of the area's 15 favorites waterfalls found alongside the byway. When considering this vast collection of historic sites, waterfalls, majestic vistas and overlooks (including the beautiful Crater Lake), one would be hard pressed to see all these highlights in one day.
Copyright ©2010 Benjamin Prepelka
All Rights Reserved