Scenic USA - Indiana
Each day Scenic USA presents a new and interesting photo feature from somewhere in the United States. Chosen from a wide variety
of historic sites, city scenes, backcountry byways, points of interest and America's best parklands, this site offers the viewer hundreds
of unique vacation destinations and photographic subjects. Each feature is coupled with a brief explanation. For further detailed
information, links to other sites are provided, but are never to be considered an endorsement.
Elkhart County Courthouse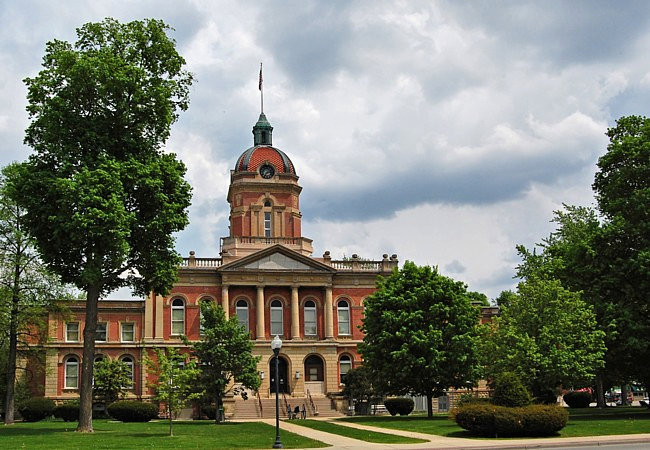 Taking up a large section of Goshen's central city green, the Elkhart County Courthouse is thought to be one of northern Indiana's most elegant buildings. Opened for public business in 1870, the courthouse is surrounded by park-like setting of shade trees and walkways.
Designed by architects Barrows and Garnsey of Chicago, the Elkhart County Courthouse rises 52 feet, enclosing three stories, with a third floor height reaching 24 feet. The top floor (3rd floor) houses the courtroom, jury room and sheriff's office. The clock tower was remodeled in 1916, replacing a disproportionate tower that was twice the height of the building.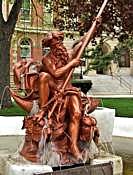 At the time of the remodel, symmetrically balanced additions were added to each end of the structure.
The second story, or main floor at street level, houses the auditor, recorder, clerk and recorder's office. Fire proof vaults offer protection for the county's valuable records. First established in 1830, Elkhart County is proud of its Renaissance Revival style courthouse, now listed in the National Register of Historic Places.
One of the features on the green is a cast fountain, often called Poseidon Fountain or Neptune Fountain. Made of zinc and coated in bronze paint, the fountain was created by the J. L. Mott Company. It's not a unique design, but copied from a European original. Well over a hundred years old, the fountain is an impressive feature on Goshen's central green.
Copyright © 2011 Benjamin Prepelka
All Rights Reserved