Scenic USA - New York
Scenic USA offers a collection of select photographs from a wide variety of attractions, points of interest, historic sites, state and
national parks found throughout the United States. Each photo feature is coupled with a brief explanation.
For further detailed information, links to other related sites are provided.
Montauk Point Lighthouse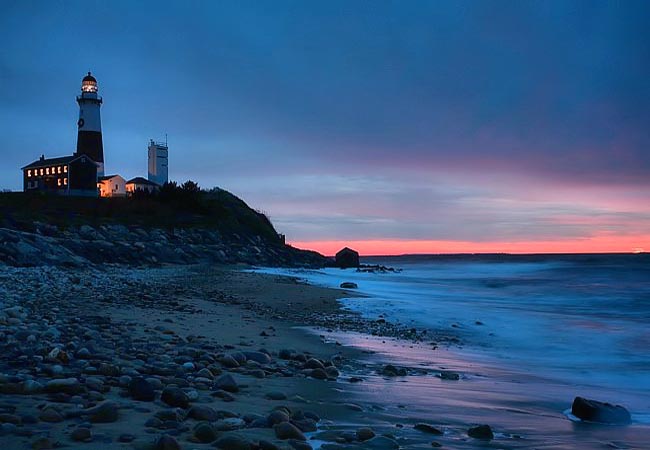 Drawn to the easternmost point of Long Island for the premier lighting of Montauk Point Lighthouse, this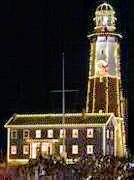 beautiful view was caught during the first glimpses of dawn. Arriving in the early morning, just in time for sunrise at Camp Hero State Park, this photographer would be one of 5,000 gathered at the first annual Lighting of the Light at Montauk Point. The old lighthouse, fully outlined with 3,000 LED lights, thrilled the appreciative crowd and exceeding all expectations. The Montauk Historical Society took on the unspoken challenge to become the most decorated lighthouse. Seems the Nubble Lighthouse in Maine once had a lock on title of most decorated lighthouse for the holidays. Now, New York State's first light-station is a true contender.
Montauk Point Lighthouse is the fourth-oldest active lighthouse in the United States, completed in 1796. Considering plans for a replacement steel tower, the 110 foot beacon escaped the United States Coast Guard's most recent plan for removal. Erosion around the base of the light creates the most concern. Terrace platforms have slowed the erosion of Montauk Point, while the United States Army Corps of Engineers designs a protective seawall.
Copyright ©2008 Benjamin Prepelka
All Rights Reserved