Scenic USA - California

Trinidad Memorial Lighthouse
---
---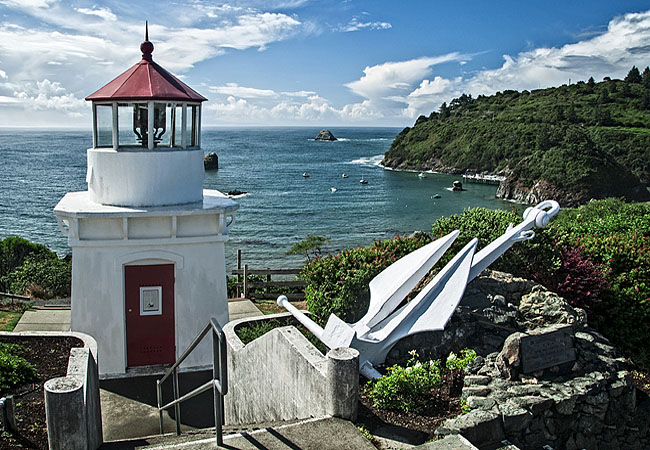 More than one person has been fooled by the Trinidad Memorial Lighthouse, and it's no wonder as the concrete replica is very accurate. The memorial lighthouse also features the original two ton fog bell and 4th order Fresnel lens.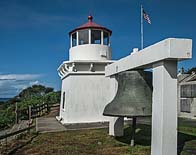 When the actual Trinidad Head Lighthouse was updated the U.S. Coast Guard donated these key components to the Trinidad Civic Club, and in turn became part of an exact double.
Overlooking Trinidad Bay, the Memorial Lighthouse was built on donated land in 1949. By the early 1970s, the club added a memorial to those mariners lost at sea. Starting out as a marble slab with the words Lost at Sea, over the years the club added more plaques with a list of names adorning a pyramidal monument. Now an adjacent retaining wall bears even more commemorative plaques.
The real Trinidad Head Lighthouse is located nearby, out on the cliff tops overlooking the bay.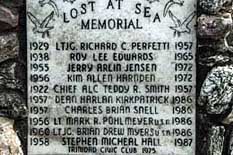 Built in 1871, the 25 foot towering was thought to be more than adequate, as the headland rises 175 feet rise above the Pacific. As you may guess, light-keeper Fred Harrington discovered the 175 foot rise during an intense December gale may not be that comforting. Sure enough, when an incredibly huge wave struck the cliff, the heavy sea rained down upon the light-keeper and lighthouse in a violent tremor. The extreme jolt knocked the lens out of level, keeping the light-keeper busy for the next half hour getting the lens back in order. Although the 1914 gale was the worst, heavy seas still send spray over the lighthouse now and again.
The lighthouse is still active, and remains off-limits to the public. The original fog bell, replaced by modern air horns, hangs from a wooden support at the memorial. The 115 year old bell is an important part of the memorial, and is rung every day at noon as a tribute to the lost seamen. Every May 26th the Trinidad Civic Club invites the public to join in the annual memorial ceremonies, including prayer, bagpipes, ringing of the bell and reading the mariner's names out loud.

Area Map
---
| | |
| --- | --- |
| Nearby Points of Interest | |
---
Copyright © 2013-15 Benjamin Prepelka
All Rights Reserved