Scenic USA - Nevada
Scenic USA offers a collection of select photographs from a wide variety of attractions, points of interest, historic sites, state and
national parks found throughout the United States. Each photo feature is coupled with a brief explanation.
For further detailed information, links to other related sites are provided.
Wingfield Park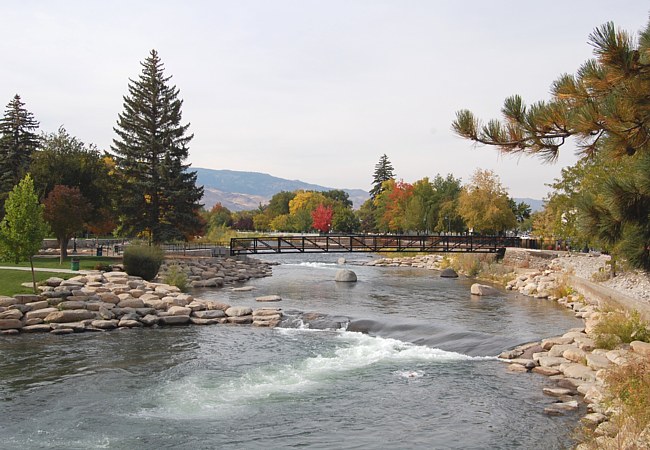 The headwaters of the Truckee River begin a 140 mile journey in California's Sierra Nevada Mountains and eventually add its crystal clear waters to Lake Tahoe. In turn, Lake Tahoe replenishes the Truckee as it flows toward Reno, Nevada, and on to Pyramid Lake.
Each May, kayakers and spectators flock to Wingfield Park and the Reno River Festival. Here at the Truckee River Whitewater Park, a multi-day competition brings out the best in freestyle and slalom kayaking events.
Wingfield Park was once a mid-city eyesore. Here in the heart of Reno the Truckee River was corralled by a dam and cordoned off with concrete walls. The Whitewater Park project reshaped this section of Wingfield Park, removing the dam and wall, placing 7,000 tons of rock and boulders, and creating a high caliber whitewater course. Using the natural flow of the Truckee, two river branches feature 11 drop-pools, satisfying both kayakers and Lahontan cutthroat trout.
For the curious, the Truckee name came from a meeting between Anglo settlers and a Paiute chief. Chief Trukizo meet his visitors with a friendly trokay (hello), causing the settlers to think Truckee was his name.
Copyright ©2006-2009 Benjamin Prepelka
All Rights Reserved