Scenic USA - Iowa
Scenic USA offers a collection of select photographs from a wide variety of historic sites, points of interest, and both state and
national parks found throughout the United States. Each photo feature is coupled with a brief explanation.
For further detailed information, links to other related sites are provided, but in no means are they an endorsement.
Prairie Rose Park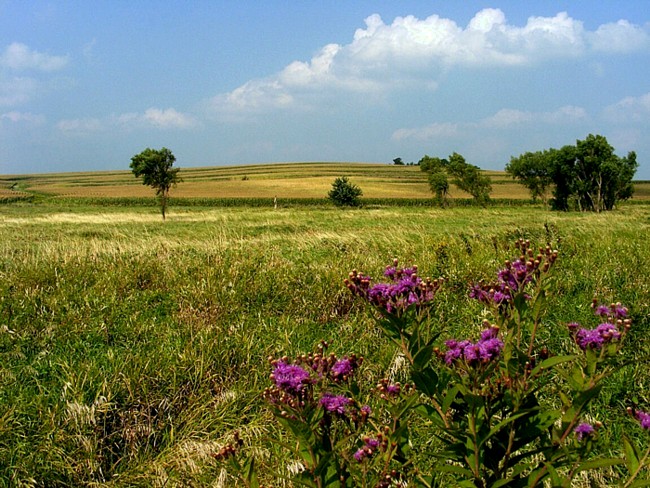 Overshadowed by its agricultural accomplishments and capacity, first thoughts of Iowa seldom include it as a vacation destination. From the looks of Iowa's detailed travel guide, there is a great effort to change that perception. Iowa manages over 75 state parks, and offers tourists eleven scenic byways and hundreds historic points of interest statewide. Supporting more than 400,000 acres of public recreation land, Iowa's state parks log more than 14 million visitors a year.
Prairie Rose State Park, named for a forgotten nearby town, is located near Harlan, Iowa. This popular park's main draw is a 200 acre lake, enticing anglers, boaters and swimmers. A medley of fresh water fish keep anglers of all ages of busy. For those lucky enough to land fish, two fish cleaning tables are ready to help prepare dinner. For those wanting to spend the night, there are 95 campsites available.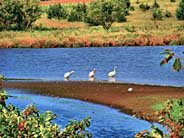 Aside from lakeside recreation, seven miles of trails offer year round activities. Trails remain open during the winter for snowmobiling and cross country skiing. For those interested in a little solitude, the north end of the park offers sweeping views of the Iowa Prairie.
As the name suggests, the prairie rose is found in the open prairie, woodlands and savannas. Occasionally it is brightens the edge of forests, fencerows and thickets. Although the wildflowers in the foregound of this scene are not prairie rose, the park's namesake is found in all states of the east, and as far west as Texas, and north to Nebraska, Iowa, and Wisconsin.
Copyright ©2010 Benjamin Prepelka
All Rights Reserved