Scenic USA - North Dakota
Each day Scenic USA presents a new and interesting photo feature from somewhere in the United States. Chosen from a wide variety
of historic sites, city scenes, backcountry byways, points of interest and America's best parklands, this site offers the viewer hundreds
of unique vacation destinations and photographic subjects. Each feature is coupled with a brief explanation. For further detailed
information, links to other sites are provided, but are never to be considered an endorsement.
Killdeer Mountain Byway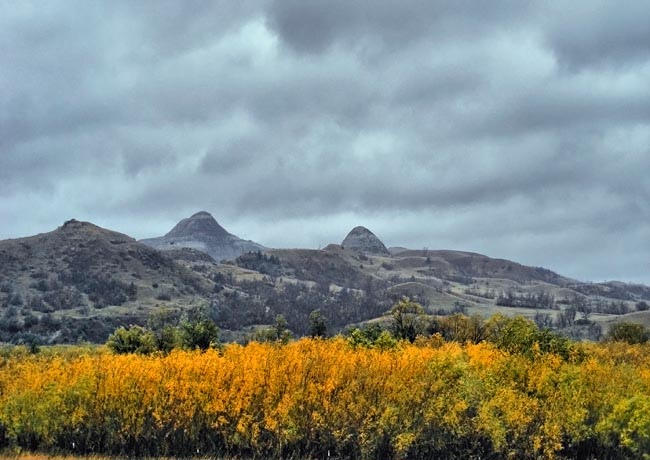 From the Killdeer Mountains and through the Little Missouri River breaks and badlands, North Dakota's 64 mile Killdeer Mountain Four Bears Scenic Byway offers a unique look at

a wild and rugged western Dakota landscape. Byway stops at Medicine Hole, the Killdeer Battlefield Historic Site, Little Missouri State Park, and Four Bear Museum provide visitors with a brief look into the culture and history of the Mandan, Hidatsa and Arikara Indian tribes.
Here in western North Dakota, a land famous for its badlands, the scenic byway begins in Manning and ends in Newtown and the Crow Flies High Butte Overlook. At the junction of routes 22 and 23, take Route 23 to the east. Just a few miles from Newtown, the Crow Flies High Butte offers a panoramic view of the huge Lake Sakakawea and Four Bear Bridge.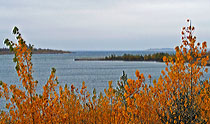 For more scenic inspiration, the primitive Little Missouri State Park is considered some of the most picturesque badlands in the state. Most of the park is only accessed over hiking and equestrian trails. Rising in northeastern Wyoming near Devil's Tower, the Little Missouri travels 560 miles to join the famous Missouri River. In North Dakota, the Little Missouri winds its way through the Little Missouri National Grasslands and Theodore Roosevelt National Park. Cottonwoods, turning a deep gold in early October, line the river and provide some color among the highly eroded hills.
Copyright © 2011 Benjamin Prepelka
All Rights Reserved