Scenic USA - Idaho
Scenic USA offers a collection of select photographs from a wide variety of attractions, points of interest, historic sites, state and
national parks found throughout the United States. Each photo feature is coupled with a brief explanation.
For further detailed information, links to other related sites are provided.
Lewiston Hill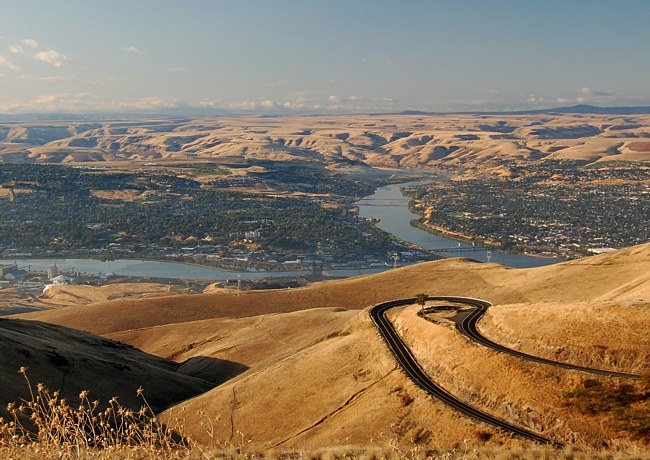 Lewiston Hill had always been a tough climb. The Lewiston Hill project, lead by Nez Perce County engineer E.M. Booth, took shape in 1917. The 2,000 foot climb utilized a series of 64 switchbacks and sharp curves, doubling initial cost estimates to more than a million dollars. America's new automobile could now scale the hill reaching speeds up to 30 miles per hour.
Some of the first Anglo-Americans to explore the area around today's Lewiston arrived with the Lewis and Clark expedition. The town, named for the famous explorer, is seen here from the Lewiston Hill overlook. From this viewpoint one can see the city is surrounded by mountains and a high plateau. Looking closely, the Snake and Clearwater rivers merge here, setting up a desirable place for a settlement. Easily accessed by river traffic, the first steamboat arrived in May, 1861. Lewiston quickly became the center for transport to Pierce as Idaho's gold rush turned into a frantic scramble.
Today, Lewiston is protected from flooding with a levee system; and through a series of locks and dams, river transportation can pass all the way to the Pacific over the Snake and Columbia rivers. Some of the local river traffic transports visitors on a 40 mile run into Hells Canyon, the deepest gorge in North America. Huge jet boats, carrying as many as 45 passengers, race through river rapids and spectacular canyon narrows into an awe-inspiring canyonland.
Copyright ©2006-2009 Benjamin Prepelka
All Rights Reserved