Scenic USA - North Carolina
Scenic USA offers a collection of select photographs from a wide variety of attractions, points of interest, historic sites, state and
national parks found throughout the United States. Each photo feature is coupled with a brief explanation.
For further detailed information, links to other related sites are provided.
Cape Lookout Lighthouse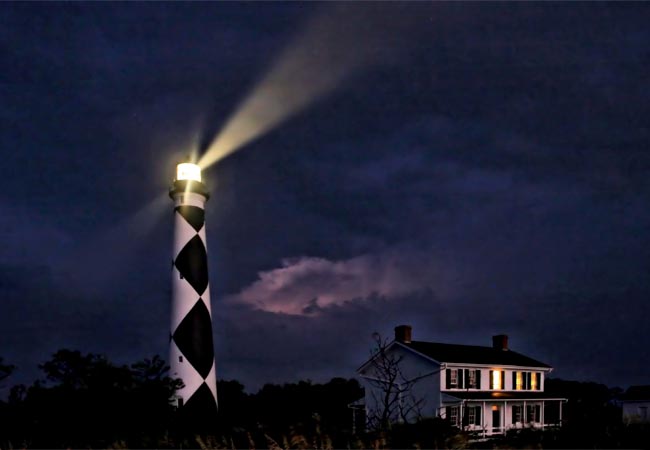 Patience has paid off well with this dramatic photograph of North Carolina's Cape Lookout Light Station. The lighthouse is one of a group of distinctive beacons that mark the treacherous shoals all along North Carolina's Southern Outer Banks (Core Banks). This lonely stretch of beach has seen more than its share of interesting history, from shipwrecks and pirates, to Civil War destruction and German U-boat patrols.
The Cape Lookout National Seashore is made up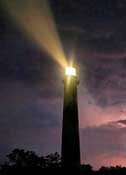 of three undeveloped barrier islands Which span a 55 mile stretch along the southern coast. The seashore can be reached by private boat or public ferry, and features plenty of space for recreation activities such as fishing, birding, windsurfing, shelling and primitive camping.
The first Harkers Island Lighthouse, built in 1812, received much criticism. Reaching 96 feet, the tower was too low to be effective and caused more problems than assistance. The second ighthouse stood 163 feet, with nine foot thick walls built to withstand hurricane force winds. The well built tower held up well to a Confederate attack when troops attempted to dynamite it. Other wartime activities offshore saw German submarines picking off merchant ships, often referred to as the Atlantic turkey shoot.
The Cape Lookout Light is still an active coastal light station and daytime navigational aid. Its distinctive black and white diamond pattern, dating back to 1873, adds a beautiful contrast to its beach surroundings.
Copyright ©2007 Benjamin Prepelka
All Rights Reserved