Scenic USA - Michigan
Scenic USA offers a collection of select photographs from a wide variety of attractions, points of interest, historic sites, state and
national parks found throughout the United States. Each photo feature is coupled with a brief explanation.
For further detailed information, links to other related sites are provided.
Pictured Rocks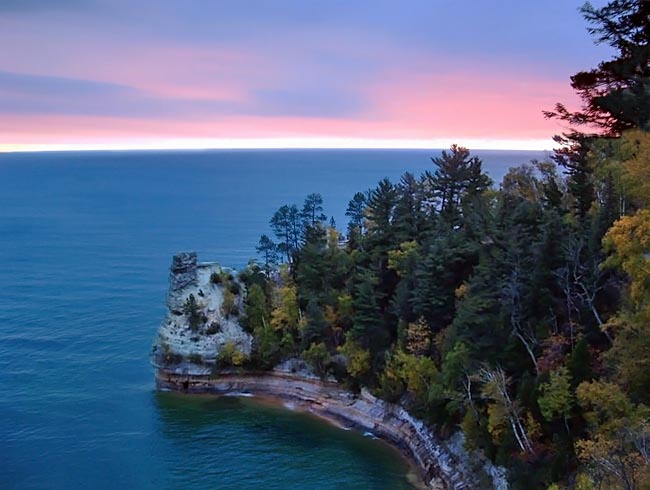 Multicolored sandstone cliffs, some reaching 200 feet above lake Superior, gave inspiration for the name at Pictured Rocks National Lakeshore. These 520 million year old Cambrian sandstone deposits are painted up in green, white, ochre, tan and browns. The lakeshore park covers 40 miles of Michigan shoreline along Lake Superior from Munising to Grand Marais.
Visitors find this 70,000 acre preserve a exciting area for rustic hike-in camping, backpacking and hiking. Others look toward relaxation along the pristine beaches. Those interested in driving the length of the park on H58 should be aware that the road is dirt and gravel for half the distance, making for a long drive.
Pictured here is the Miners Castle, one of the most famous landmarks along the shoreline drive. Many of the sandstone outcroppings create opportunity for waterfalls, with seven named falls within the park. Pictured Rocks cliffs are better viewed from the water, with boat tours offered daily from Memorial Day through mid-October.
Copyright ©2007 Benjamin Prepelka
All Rights Reserved