Scenic USA - Florida
Scenic USA offers a collection of select photographs from a wide variety of attractions, points of interest, historic sites, state and
national parks found throughout the United States. Each photo feature is coupled with a brief explanation.
For further detailed information, links to other related sites are provided.
St. George Island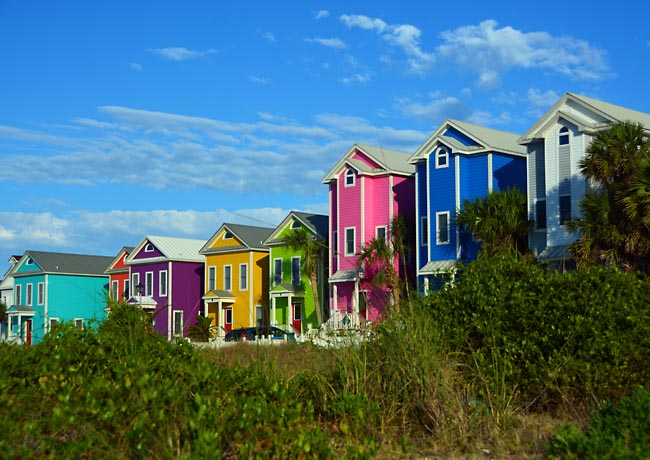 Making the list of top beaches and scoring high in ranks of Florida state parks, St. George Island State Park deserves a look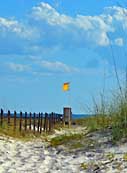 when searching for a cure of the wintertime blues. This barrier island, encircled by Gulf and Apalachicola Bay waters, is the perfect place for fishing, clamming, birding or kayaking. Another soothing option may include sitting back and enjoying the longest beachfront of any Florida state park.
Here on the Forgotten Coast, nine miles of undeveloped beach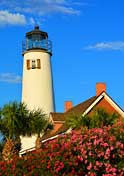 and dunes remained out of reach to all but the seagoing travelers, seeing limited exploration when gum tappers and lighthouse contractors arrived in the early 1900s. Other human interaction came with World War II when troops trained among the island's sweeping dunes.
A causeway built to the island was completed in 1965, opening up a land covered in slash pine forests, oak hammocks, vast dunes, salt marshes and secluded coves. In 1980, park facilities were opened, providing boat ramps, camping and picnicking sites. The park has managed to maintain its Old Florida look, and a large portion of its beaches remain undeveloped. Park visitors may also be fascinated by the history of freshly rebuilt St. George Island Lighthouse, one of the popular stops on this island chain.
Copyright ©2009 Benjamin Prepelka
All Rights Reserved