Scenic USA - Wisconsin
Scenic USA offers a collection of select photographs from a wide variety of attractions, points of interest, historic sites, state parks and
national parks found throughout the United States. Each photo feature is coupled with a brief explanation.
For further detailed information, links to other related sites are provided.
Lakeshore Park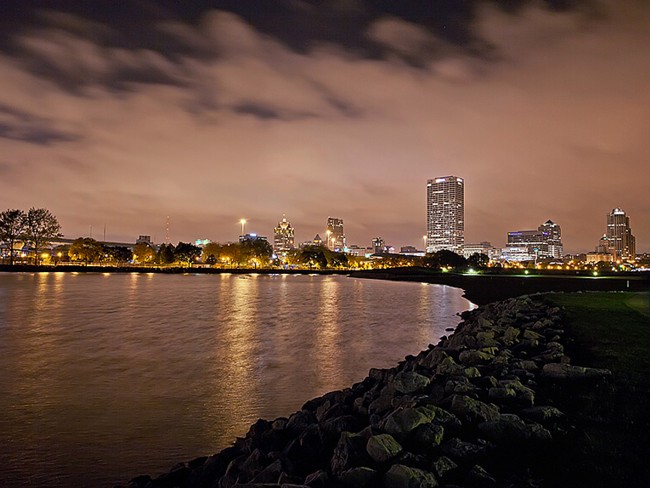 Formerly known as Harbor Island, Lakeshore Park is the only state park located in an urban setting in the entire state of Wisconsin. Surrounded by the waters of Lake Michigan, the 17 acre park has grown in its popularity, offering a fishing pier as well as boat slips and a small beach area access for recreational canoeists and kayakers. Built with huge chucks of bedrock, the only complaints stem from the lack of trees. A few well placed huge boulders, looking like steps, offer a great fishing perch, or just a great place to enjoy the lakeshore scenery.
This beautiful evening scene captures the Milwaukee skyline from Lakeshore Park. With its watery foreground, this very appropriate view illustrates Milwaukee's prominence on the waterfront. The city also resides at the confluence of three main rivers. The grid-like pattern of city streets is crossed by interstates 43 and 94, intersecting at the Marquette interchange. In this skyline view, the U.S. Bank Center tops the skyline at 600 feet. Designed by Bruce J. Graham and engineered by Fazlur Khan, the building is the highest point in the city, as well as the state of Wisconsin.
Copyright © 2010 Benjamin Prepelka
All Rights Reserved