Scenic USA - Virginia
Scenic USA offers a collection of select photographs from a wide variety of attractions, points of interest, historic sites, state and
national parks found throughout the United States. Each photo feature is coupled with a brief explanation.
For further detailed information, links to other related sites are provided.
Monticello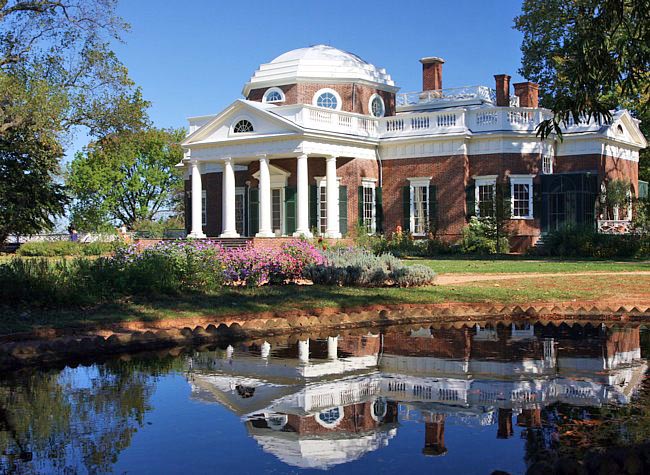 One of the most familiar plantation homes in America has decorated the reverse side of the nickel for more than 65 years. The 11,000 square foot, neoclassical mansion was a Thomas Jefferson design and remained his home for 55 years. Located near Charlottesville, Virginia, Monticello (meaning little mountain) is perched on a high hilltop. The 43 room mansion was primarily built of local material and by local craftsmen. The window glazing was imported from Europe, and today, nearly a third of the glass is original. One of the most prominent features at Monticello is its central dome that graces the facade and covers the large sky room, shown in this splendid reflective scene.
Upon the death of President Thomas Jefferson, the accumulation of debt required a sell-off of most of the furnishings and eventually the home itself. Over time and drawn-out legal battles, Monticello fell into disrepair. Painstaking efforts, instituted by the Jefferson Foundation, led to full restoration, complete with almost 60 percent of the original furnishings. Monticello is the only private residence to be designated as a world heritage site.
Copyright ©2007 Benjamin Prepelka
All Rights Reserved