Scenic USA - Florida

Vehicle Assembly Building
---
---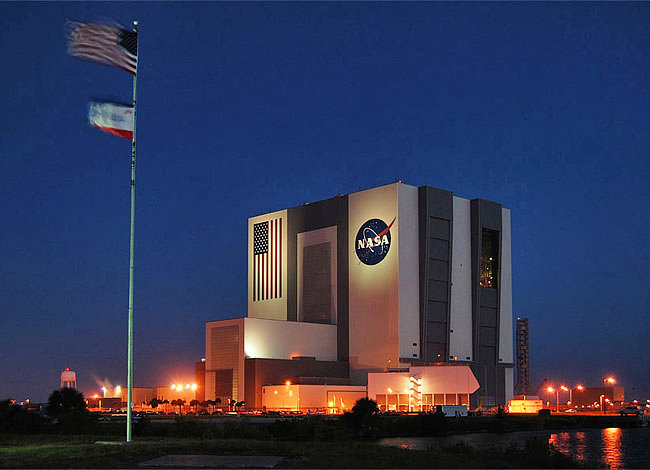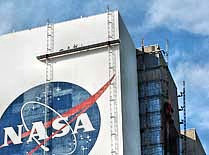 The Vehicle Assembly Building, located at Kennedy Space Center in Florida, is one of the world's largest buildings. Its footprint rests on eight acres, stands 525 feet high and encloses an astounding 130 million cubic feet of space. The original design was built to assemble the Apollo Program's Saturn V moon vehicles in the 1960s. Construction used 100,000 tons of steel and 65,000 cubic yards of concrete.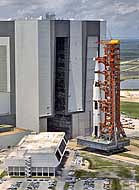 The outer perimeter of the buidling was lined with office space, requiring 10,000 tons of air conditioning. During the late 1970s, new internal access platforms were installed in two of the high-bays for the Space Shuttle Program, the following generation of launch vehicles.
When the final Space Shuttle Mission, STS-135, ended in July, 2011, the Vehicle Assembly Buidling (VAB) was added as a tour stop at Kennedy Space Center. One of the most popular sights at the space center, the VAB is decorated with a huge American flag and a NASA logo, often called the meatball.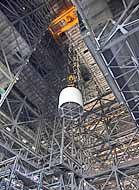 The flag, insignia and building were repainted after repairs from damage during the 2004 hurricane season, when hurricanes Francis and Jeanne blew off 850 14x6 foot panels from the side walls. The flag alone required 6000 gallons of paint. The flag measures 209 high and 110 feet wide, and its stripes would be wide enough for a bus to drive inside the lines.
During the spring of 2014 tours of the VAB were discontinued as space center workers prepare NASA's newest space vehicle. The Orion spacecraft's first flight test was placed atop a Delta IV Heavy rocket on the pad at Launch Complex 37, Cape Canaveral Air Force Station (Dec 2014). Still in the testing phase, Orion traveled 3600 miles above Earth and tested critical systems for deep space exploration. Designs call for the most powerful rocket motors ever built, and will be capable of sending humans into deep space.

Area Map
---
| | |
| --- | --- |
| Additional Points of Interest | |
---
Copyright © 2006-16 Benjamin Prepelka
All Rights Reserved