Scenic USA - California

California Western Railroad (Skunk Train)
---
---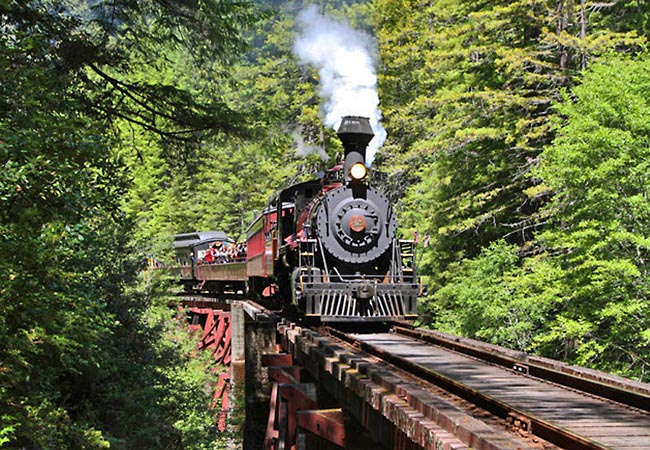 Marking its 100th year anniversary of passenger service in 2011, the California Western Railroad (CWRR) was first designed to haul redwood timber from the northern Coastal Mountains to area sawmills and ports on the coast. Seeing the value of passenger service in the area, lumber company owner Charles Russell Johnson not only provided efficiency in the lumbering industry but provided valuable services to the area. In fact, the CWRR was the last in the country to deliver mail by train.
   Today's California Western Railroad, affectionately called the Skunk Train, still provides passenger service along with its excursion train that connects Fort Bragg (no connection with the military base in North Carolina) with Willits. This scenic 40 mile route over the Coastal Mountains was only possible by an infrastructure that was first established in 1885. The railway once utilized 115 bridges, two tunnels and 3.5 percent grades, climbing through the Pacific Coastals by way of the Noyo River Valley, topping the 1740 foot apex on the Coastals and descending into Willits.
   Returned to service after an overhaul in 2001, the California Western No. 35 is a regular performer during the summer season. One of the most popular steam engines during the first half of the 20th century, the 2-8-2 Mikado was built by all three leading American steam locomotive builders. Here on the Fort Bragg to Willits run, the old Baldwin brings back a bit of nostalgia on this exciting trip through the Jackson State Forest.
   The Skunk nickname came from early rail-buses (rail-cruisers) that operated over the CWRR line. These gasoline powered passenger rail-buses kept passengers warm with oil powered heaters.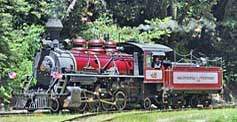 The combination of exhaust from the train engine and oil-fired heaters put out an "odor that smelled like a skunk."
   Here in Mendocino County the Skunk Train still entertains passengers with its historic run among the redwoods, through mountain tunnels and over 30 of the original bridges, showing off plenty of Coastal Mountains scenery. The vintage 1925 M-100 and 1935 M-300 rail-cruiser "Skunks" still run, complimenting the old No. 35, a 1924 Mikado class Baldwin. The ever popular 40 mile round trip excursion runs approximately four hours.

    Area Map
---
---
Copyright © 2012-17 Benjamin Prepelka
All Rights Reserved