Scenic USA - Texas
Scenic USA offers a collection of select photographs from a wide variety of attractions, points of interest, historic sites, state and
national parks found throughout the United States. Each photo feature is coupled with a brief explanation.
For further detailed information, links to other related sites are provided.
Booth Public School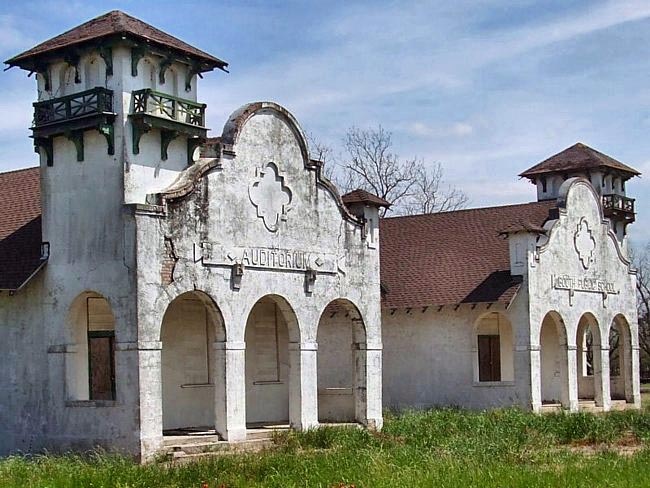 One of the obscure pages of eastern Texas history portrays the life of Irby Booth and his wife Mildred. Freeman Booth moved into Ritchmond (today's Richmond) in 1885. By 1889, Irby had met Mildred Ryon Wheat and the two were soon married. Booth also purchased land near the Brazos River and built a home. Booth furthered his settlement plans by traveling to South Carolina and convincing 30 families to relocate to his land in east Texas (near Houston). It wasn't long before crops of rice, corn and cotton were shipped out on the Brazos, a convenient outlet to the Gulf of Mexico.
The Booth settlement was very prosperous and was eventually serviced by the Gulf, Colorado & Santa Fe Railroad. By 1912, the new town was enjoying postal service, a general store, lumberyard, cotton gin, a Baptist church and the Booth Public School. Irby Booth had drawn up the plans with a strong resemblance to the old missions of San Antonio. The population of Booth peaked during the World War I era, with over 150 students attending school. Today, Booth's history centers around this old school house and a wayside marker, alluding to remnants of the early 20th century.
Copyright ©2006-2009 Benjamin Prepelka
All Rights Reserved