Scenic USA - Massachusetts

Shelburne Falls
---
---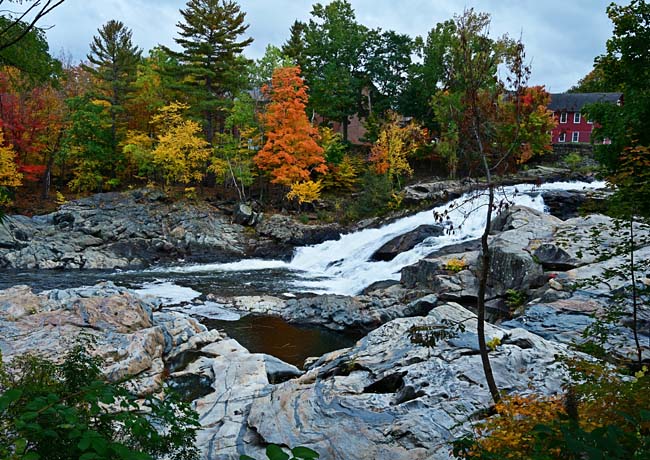 Photos by Ben Prepelka
Bridge of Flowers by ToddC4176 Wikipedia
One of a cluster of small towns in the Deerfield River Valley, Shelburne Falls is located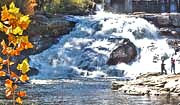 just west of Massachusetts Interstate 91. Here in the foothills of the Berkshire Mountains, scenic Route 2 highlights this string of charming towns along the historic Mohawk Trail.
The Village of Shelburne Falls, escaping a popular urban renewal trend of the 50s and 60s, successfully retained its eclectic mix of village shops and streets. The Deerfield River runs through the business district shared by Buckland and Shelburne. Once the center for water-powered industry and Native salmon fishing, Shelburne Falls is now a scenic center for visitors and nearby residents. The villages brags that everything is within walking distance of the town center and hopes that visitors enjoy the sights, shops and art galleries of the village.
One of the main attractions in Shelburne is the Bridge of Flowers which crosses the Deerfield River upstream of Shelburne Falls.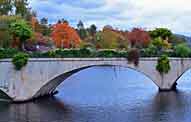 All are invited to stroll across the world-famous bridge and thoroughly enjoy thousands of bulbs, perennials, annuals and flowering shrubs that bloom throughout the year.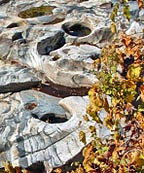 Water Street parallels the river and offers an overlook where visitor may enjoy the falls area. Just below the dam, the Deerfield River cascades through a small rocky gorge, sculpted by an ancient glacial flow and polished by the Deerfield River. The Pot Holes, neatly carved into the granite, are one of the village's most unusual attractions. The action of swirling water has spun up loose grindstones and created potholes in the bedrock ranging from six inches to a record-setting diameter of 39 feet. It was once common practice for sightseers to explore the rocky shoreline and get a close-up look at these amazing natural wonders. But recently the city has put this practice on hold, most likely for legal reasons. Long gone are the days when people would take responsibility for their own careless actions.

Area Map
---
| | |
| --- | --- |
| Additional Points of Interest | |
---
Copyright © 2006-15 Benjamin Prepelka
All Rights Reserved