Scenic USA - Florida
Scenic USA offers a collection of select photographs from a wide variety of attractions, points of interest, historic sites, state and
national parks found throughout the United States. Each photo feature is coupled with a brief explanation.
For further detailed information, links to other related sites are provided.
Cape Coral Daybreak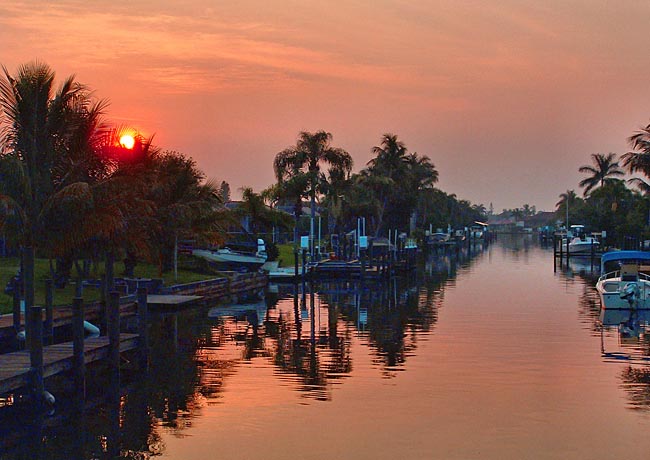 It seems that Florida's burrowing owl has made a home and a name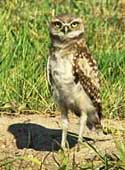 for itself in the town of Cape Coral. Officially crowned the city bird, resident owls have also garnered their own special festival. The owls, a species of special concern, reside throughout the city, in yards, parks, medians and empty lots. First time visitors are oftentimes surprised to see these unflappable city dwellers so close to ordinary city hubbub. When getting too close to their burrows, owls put on quite a display, bobbing their heads and spreading their wings in an attempt to frighten away intruders. These extremely adaptive creatures are honored with the Burrowing Owl Festival, held annually on the third Saturday of February, in partnership with the Cape Coral Friends of Wildlife.
Cape Coral is often billed as a tropical paradise and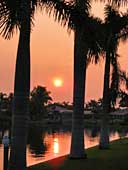 the largest "small town" between Tampa and Miami. Cape Coral nearly 40 years old, once lured newcomers with its tropical weather, well-maintained parks and free recreational activities. Baltimore's Rosen brothers invented novel ways to sell their city lots. Some early Boomers, thinking of retirement, purchased land with installment payments. Named the second fastest growing city in the United States in 2005, it's been overshadowed by its more cosmopolitan neighbor, Fort Myers. Laced with a network of canals and surrounded by Gulf waters and the Caloosahatchee River, this Florida paradise easily attracts those fond of water recreation. Cape Coral welcomes nearly 10,000 newcomers every year.
Copyright ©2008 Benjamin Prepelka
All Rights Reserved