Scenic USA - Utah

San Rafael Swell
---
---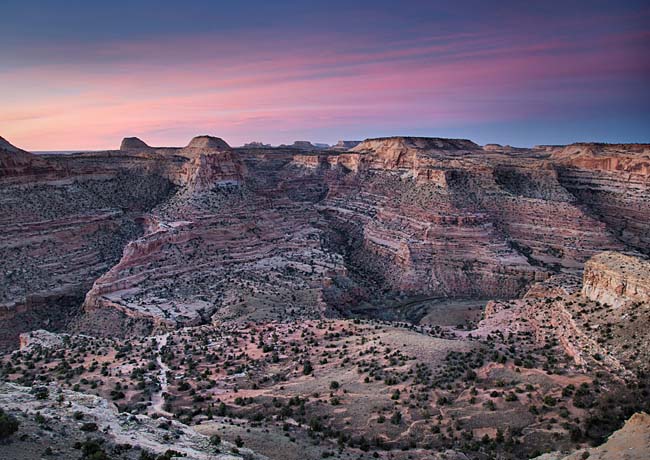 Impassable for average motorists since the beginning of the auto age, the 2000 square mile kidney shaped San Rafael Swell was transformed by Interstate 70 construction in 1970.
The 70 mile section, a two-lane highway, passed through one of the most desolate and rugged sections of country, and is still the longest section of Interstate Highway to be opened at one time. Since its initial opening, the highway has been expanded to four-lanes. The expansion project, completed in 1990, still leaves the highway without any motorist services between Salina and Green River, a distance of 110 miles.
Although it's a steep climb to the top of the Swell, modern day travel is a breeze when compared to what early settlers found along their route westward. Just to the north of this imposing fold, the Old Spanish Trail, a well traveled trailway, passed through this geological wonderland.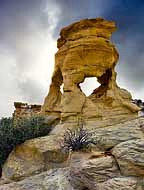 Today, San Rafael Swell is considered one of Utah's fastest growing tourist destinations. Consisting of a giant dome-shaped anticline, powerful flash floods and wind-blown sands have etched out numerous valleys, canyons, gorges, mesas and buttes. Both the San Rafael River and Muddy Creek cut directly across the Reef uplift, creating desert features that resemble the topography on Mars.
Governed by the BLM today, many of the gravel roads into the interior of the Swell were originally constructed for ranching and uranium mining activities. Built during the Depression Era, the Civilian Conservation Corp's handiwork is seen in bridges, stock water ponds and other range improvements.
The presence of Native American cultures can be seen throughout San Rafael Swell in the form of ruins, pictographs and petroglyph panels.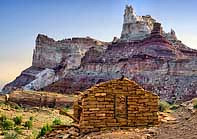 Abandoned mines, natural arches, towering buttes and deep canyons continue to entice thousands of sightseers, photographers, rock climbers, hikers, horseback riders and ATV enthusiasts.
Although small sections of the Swell are protected as Wilderness Study Areas, the entire San Rafael Swell has been the subject of more wilderness and national monument ideas repeatedly during the past 50 years, with the most recent proposal for a San Rafael National Park. With oil and mining development in mind, there may be no protection for an area with some of the most spectacular and educational geology in the country.

Tour Map
Area Map
---
| | |
| --- | --- |
| Additional Points of Interest | |
---
Copyright © 2006-15 Benjamin Prepelka
All Rights Reserved