Scenic USA - Oklahoma

Little Sahara State Park
---
---
   One of the biggest surprises for Oklahoma visitors is its "walking hills", an area of shifting sands and desert-like dunes.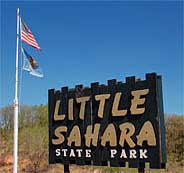 Made up of vast deposits of well-sorted quartz, the dunes are remnants of a prehistoric era when the Cimarron River washed over the entire area. A series of long flowing dunes, created about 11,000 years ago, make up today's Little Sahara State Park.
   To local residents, these sand dunes are the place for an exhilarating day in a dune buggy, often seen preparing their vehicles in the shade. Here in this mini-desert, one of the best ATV venues in the Midwest, Little Sahara offers ATVers more than 1600 acres of terraced dunes.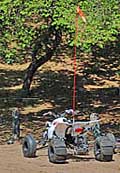 Never appearing quite like the day before, these dunes are constantly being shaped by wind, weather and daily assault by four-wheeled vehicles. Moving about a foot every year, the dunes are a perfect playground for off-road enthusiasts. Don't worry if you arrive without your own ATV, area shops will provide ATVs, buggies and everything you need for a day on the dunes. Fully equipped, each rental will accommodate one to four people. The helmet law is in effect (age related) in the state of Oklahoma, and the Buggy Shop will provide proper equipment for a safe experience. ATV riders should be aware of park rules and take heed of the hazards not associated with conventional driving. Steep drop-offs, exposed objects and other drivers can ruin a day of excitment and fun.

    Area Map
---
---
Copyright © 2012-17 Benjamin Prepelka
All Rights Reserved