Scenic USA - Pennsylvania

Dingmans Falls
---
---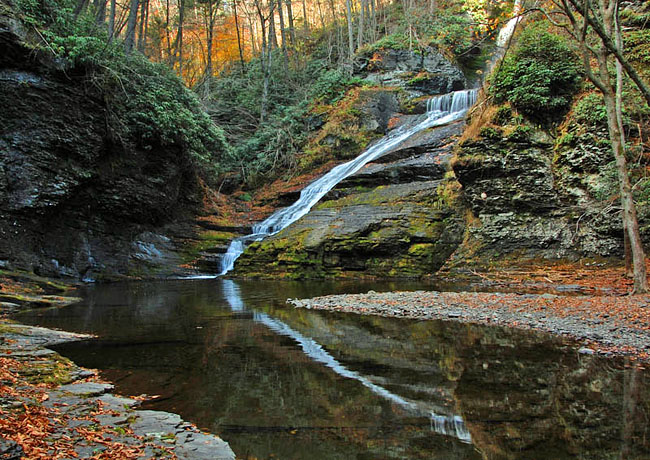 Settling on a plot of land he called Dingman's Choice, Dutch pioneer Andrew Dingman arrived on the banks of the Delaware River in 1735.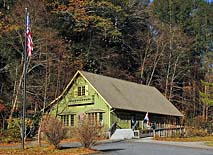 Operating a ferry that connected New Jersey to Pennsylvania, Dingmans Ferry became a very important link in the country's westward expansion. By 1868 the Post Office recognized the town as Dingmans Ferry.
Today Dingmans Ferry is one of a string of towns along the 35 mile strip on the Delaware River and the Delaware Gap National Recreation Area. This 67,000 acre corridor occupies both sides of the Delaware River in Pennsylvania and New Jersey. Known for its river recreation, area trout streams, hiking, hunting and camping, the area also plays host for a line of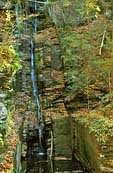 splendid waterfalls.
One of a dozen major waterfalls in the Delaware River Valley, Dingmans Falls is Pennsylvania's second tallest.
Just a short distance from Dingmans Ferry and U.S. Route 209, a short hiking path and boardwalk leads from Dingmans Falls Visitor Center to Silverthread Falls and the 130 foot Dingmans Falls. Where Silverthread plunges through a narrow fissure in the Pocono sandstone, Dingmans Falls drops down the cliff face in several cascades. While Silverthread may run as a trickle throughout the year, Dingmans guarantees a good soaking in the spring if you venture out to the end of the boardwalk. In this autumn view Dingmans still puts on an impressive show despite the decrease in water flow. With so many waterfalls and recreational opportunities in the area, visitors will find the Delaware Water Gap NRA an exceptional retreat.

Area Map
---
| | |
| --- | --- |
| Additional Points of Interest | |
---
Copyright © 2013-15 Benjamin Prepelka
All Rights Reserved