Scenic USA - Pennsylvania
Scenic USA offers a collection of select photographs from a wide variety of attractions, points of interest, historic sites, state parks and
national parks found throughout the United States. Each photo feature is coupled with a brief explanation.
For further detailed information, links to other related sites are provided.
Josiah Hess Bridge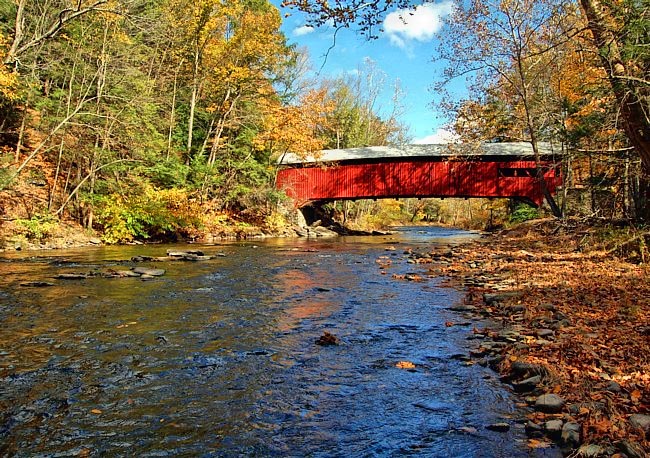 Located between the towns of Forks and Jonestown, the Josiah Hess Bridge is one of two dozen historic covered bridges in Columbia County. Here in central Pennsylvania covered bridge fans will find the state's third largest concentration of covered bridges. Their survival is celebrated every year in October during the annual Covered Bridge and Art Festival. This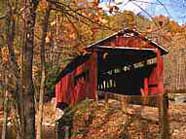 lively event not only features the bridges, but a large assembly of arts and craft vendors, a food fair, country bands, square dances, and century old craft demonstrations.
The Hess Bridge, built in 1875 by Joseph Reline and W.J. Manning for $1349.50, followed a Burr arch design. The bridge, crossing Huntington Creek, provided access to the Hess sawmill and farm. Josiah Hess was part of the 4th generation of Hess family members that called Pennsylvania home. Johann Conrad Hess, just 16 years old, climbed aboard the ship Glasgow in 1730 and set out on his journey to the New World and Philadelphia. It wasn't long until the Hess families migrated to central Pennsylvania, establishing farms and businesses in Columbia County.
Fully restored and rededicated on August 25, 2005, the bridge survived a close call the following year. Just downstream, the storm of June 28, 2006, destroyed the West Paden Bridge (full story and photos). Here at the Hess Bridge site, swift moving currents severely damaged the south bridge abutment. Quick action by local contractor John Lapp may have prevented a similar fate as the West Paden Bridge. Today, looking like new, the bridge and a beautiful woodland setting makes a great picnic spot and wonderful photographic subject.
Copyright ©2010 Benjamin Prepelka
All Rights Reserved