Scenic USA - Virginia

Manassas Stone House
---
---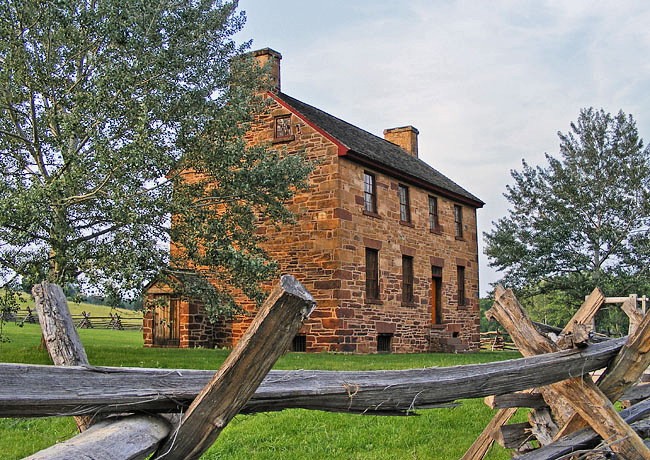 Photos by Ben Prepelka
Brehm floor carving - NPS
When the Confederacy moved its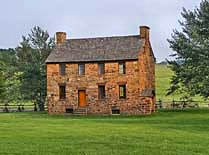 capitol city from Montgomery, Alabama to Richmond, Virginia, the Union battle cry became forward to Richmond. Before reaching the new Southern Capital, Brig. Gen. Irvin McDowell's green troops were met at Manassa and the First Battle of Bull Run. The fight ended with the Union army falling into a hasty retreat. The following year, General Lee boldly moved his troops northward through Manassas into Union territory. The North and South met once again at Manassas, the Second Battle of Bull Run.
The old Stone House, located at the intersection of Warrenton Turnpike and Manassas-Sudley Road,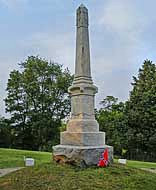 survived both battles of Bull Run. Built as a tavern, the red sandstone structure sat alongside the best hard-surfaced road in early Virginia. Known at the time as the Fauquier and Alexandria Turnpike, tax records indicate the two-story stone house was built sometime in 1848. Turnpike travelers, who stopped across the road to pay a toll, were probably able to buy food and drink, and possibly spend the night at the stone house.
Just as turnpike traffic was declining, Henry P. and Jane Matthews purchased the house and property in 1850, hoping to farm the land. Just a decade later, the Matthews family found themselves in the midst of raging battle during the first major engagement of the Civil War. Flags were placed in the windows, identifying the house as a hospital, but the structure continued to take heavy fire. One of the few buildings on a main road, the house continued to serve as a hospital until all the wounded and prisoners were shipped to Richmond.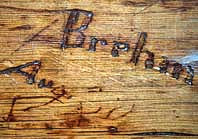 It's not known if the Matthews family returned home before the Second Battle of Bull Run which began just 14 months later. Selling the property after the war, the battlefield landmark was used as a residence, tavern and post office until the federal government purchased the property in 1949.
Leaving restoration to the National Park Service, the structure was returned to its Civil War appearance beginning in 1960. The Stone House is still a prominent landmark in Manassas, and remains one of the few intact pre-Civil War buildings at the Manassas National Battlefield Park.

Park Map
Directions
---
| | |
| --- | --- |
| Additional Points of Interest | |
---
Copyright © 2008-15 Benjamin Prepelka
All Rights Reserved