Scenic USA - Wisconsin
Scenic USA offers a collection of select photographs from a wide variety of attractions, points of interest, historic sites, state and
national parks found throughout the United States. Each photo feature is coupled with a brief explanation.
For further detailed information, links to other related sites are provided.
Black River
Martin Pattison was the man behind the park, i.e., Pattison State Park in northern Wisconsin. Pattison lived along the Black River for three years, where he and his men logged the Wisconsin forest. Pattison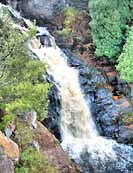 parlayed his share of the lumber company into a land purchase in the Vermilion Range, Minnesota. During the late 1800s, Pattison became one of the largest land holders, rich with deposits of iron ore.
During the year of 1917, Pattison became aware of a project to dam the Black River, essentially putting an end to Big Manitou Falls. Recalling his love for the Black River area (Mucudewa Sebee - Ojibwa), he secretly purchased the land around the falls. With his donation of the land in 1918, the Pattison State Park was born. Pictured here is a Black River scene, showing an access bridge to the Big Manitou Falls Trail. A half mile path leads to Wisconsin's tallest falls, the Big Manitou, as it drops 165 feet in a thunderous roar.
Copyright ©2007 Benjamin Prepelka
All Rights Reserved