Scenic USA - Pennsylvania

Heinz Memorial Chapel
---
---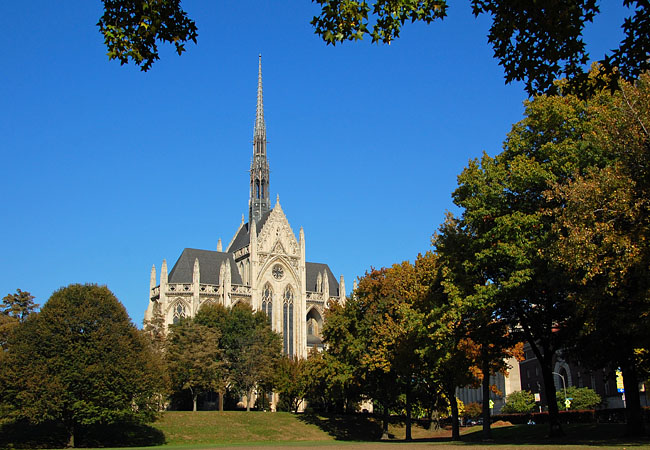 Nearly centered in the Metro Area, Pittsburgh's Oakland area is the major cultural,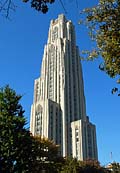 academic and healthcare center of the city. Best known for its museums and universities, the area's industrial and banking leaders of a century ago are recognized today in many area landmarks. Among its 35 outstanding buildings and sculptures, nine have been placed on the National Registry of Historic Places.
Adjacent the University of Pittsburgh's 42 story Cathedral of Learning, the Heinz Memorial Chapel was a posthumous gift from Henry John Heinz. Planned as a memorial to his mother, Anna Margaretha, the University of Pittsburgh's non-denominational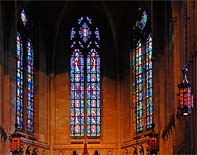 church is dedicated to culture, religious worship and architectural beauty.
Following their father's request, the Heinz children (of Heinz Ketchup fame) saw to the completion of the neo-Gothic church. Its limestone walls, repetitive arches, balustrade parapets, buttresses and extensive use of stained glass follow patterns of early 1900s religious architecture.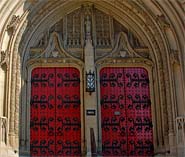 The chapel's 73 foot transept windows, depicting Temperance, Truth, Courage and Tolerance, are among the tallest in the world. The chapel's 23 windows, totaling 4000 square feet, are made up of nearly a quarter million pieces of stained glass. The chapel is topped off with a 113 foot tall fleche. Rising from the transept roof, the steel-framed fleche is clad in lead-coated copper, consisting of an incredible amount of detail.
Designed by Philadelphia architect Charles Klauder, the 80 year old chapel hosts 1500 annual events, including religious services, weddings, concerts, classes, memorial services and guided tours. The chapel is open for self guided tours when not in use.

Area Map
---
Additional Points of Interest

Cool things to do in Pittsburgh
---
Copyright © 2013-15 Benjamin Prepelka
All Rights Reserved