Scenic USA - Alabama

Lake Guntersville
---
---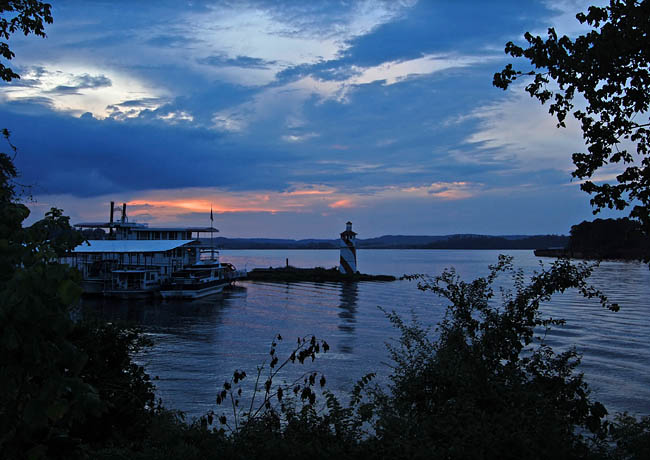 Making the list of the top places to live in America, and named one of the best fishing towns by Field and Stream, Guntersville marks the southernmost point of the Tennessee River. Once exiting the Guntersville Dam, the Tennessee River makes its turn to the northwest as it journeys to meet the Ohio River near Paducah, Kentucky.
   Named for town founder, John Gunter, Guntersville and the Tennessee River waterway have undergone radical changes since his 1777 arrival. An early Scottish settler, Gunter was considered an adopted member of the Cherokee Tribe. Here along the Tennessee River, Gunter found a precious salt deposit and set up a nearby trading post.
   When the Tennessee Valley Authority established a series of dams on the Tennessee during the 1930s, the river was converted into a 652 mile waterway. In the process Guntersville became a major shipping port. The Guntersville Dam stretches across the Tennessee River for 3979 feet, creating a 75 mile long lake that reaches back into Tennessee. Today, Lake Guntersville is mostly about fishing.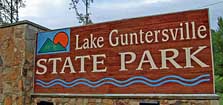 In late spring, during the mayfly hatch, white bass attract a fun-loving group of fly-fishing anglers. Crappie, largemouth bass, and bluegills dominate catches during the summer fishing season. Lake Guntersville State Park takes in 6000 acres of natural woodlands and a beautiful section of shoreline just east of Guntersville. Aside from catering to boaters and anglers, this resort park also offers an 18 hole championship golf course. If you're not fishing or boating, most likely you're up for a friendly round of golf. Boat ramps, lakeside campgrounds, plenty of shoreline, and a mountain top chalet make this an excellent place for family outings and outdoor fun.

    Area Map
---
| | |
| --- | --- |
| Additional Points of Interest | |
---
Copyright © 2011-16 Benjamin Prepelka
All Rights Reserved