Scenic USA - Nebraska
Scenic USA offers a collection of select photographs from a wide variety of attractions, points of interest, historic sites, state and
national parks found throughout the United States. Each photo feature is coupled with a brief explanation.
For further detailed information, links to other related sites are provided.
Ash Hollow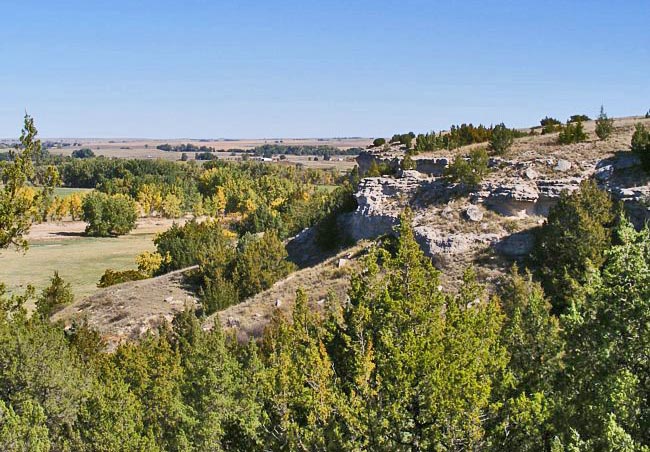 Said to have the best water on the Overland Trail, early pioneers sought out this shady valley. With great effort, wagons had to be lowered down the steep slopes just to enjoy the inviting rest stop. Wagon ruts are still visible on the Windlass Hill. Archeological evidence shows this canyon had always been a favorite gathering place for the last 8,000 years. During the 19th century, Ash Hollow was often called an oasis.


Today, the Ash Hollow State Historic Park covers 1,000 acres of Nebraska's upland prairie. The park was added to the state's inventory in 1962 and was designated a National Historic Landmark in 1966. Park pathways, nearby the visitor center, lead to the hillside spring and recessed cave. Other historic features include a small prairie schoolhouse, built of stone in 1903. A sod home is also preserved on park property, a salute to the soddies, .
Ash Hollow, along with Castle Rocks and Scott's Bluff, were some of the notable milestones found on the emigrant's westward trail. This popular section of the California Road, Overland and Oregon trails lead to the next leg of their journey, the Royal Road, or Platte River Valley.
Copyright ©2008 Benjamin Prepelka
All Rights Reserved