Scenic USA - Montana

Spirit Gate Memorial
---
---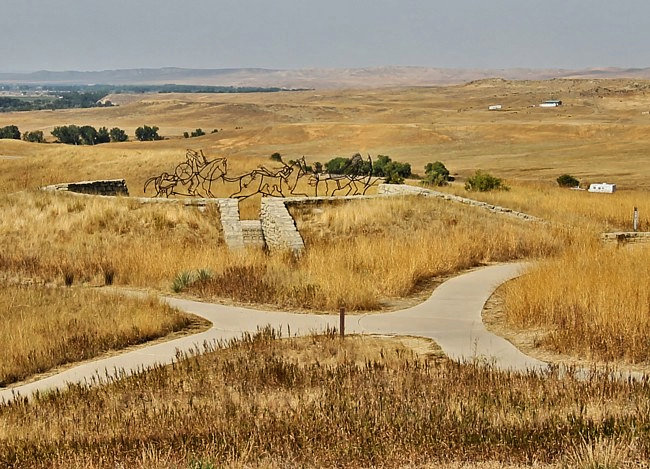 Photos by Nick Havrilla
Spirit Warriors closeup by Peggy Price
Over the years every aspect and minute detail of the Battle of Little Bighorn has been examined and analyzed. Known as Custer's Last Stand for over a century,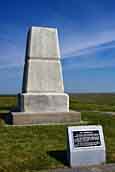 debates over 7th Cavalry battlefield positions, jammed Springfield carbines and its controversial leader has spawned reams of written material about the June 25, 1876 battle.
Known as the Battle of the Greasy Grass to the Lakota, northern Cheyenne and Arapaho, little was done to acknowledge the fallen Native warriors on Last Stand Hill. Totally ignored or given false promises for over 45 years, President George H. Bush finally began to address the disparity,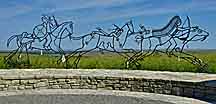 changing the name of the park from Custer Battlefield National Monument to the Little Bighorn Battlefield National Monument.
Dedicated in 2003, the Spirit Gate Memorial now offers a symbolic remembrance of the Spirit Warriors. Blending in with wavy fields of prairie grass, the memorial follows a theme of Peace through Unity. Standing 75 feet from the 7th Cavalry Monument, the Spirit Gate Window offers a clear view of the 7th Calvary obelisk. Symbolically, the Spirit Gate Memorial welcomes the 7th Calvary into the memorial circle. Sacred to many Indian tribes, the circle is often part of ceremonial events.
This circle's walls are lined with panels for each tribe that fought in the battle. The Crow, Cheyenne, Arapaho, Sioux and Arikara are all represented. Water trickling from the Weeping wall depicts tears shed for both warriors and soldiers.
With today's audio tour, it's easier than ever to understand the story behind the Little Bighorn battle through your cell phone. Using a cell phone at different stops along the tour road, numbers found on the posted signs correspond to historic briefs that help visitors appreciate significant points on the battlefield.

Area Map
---
| | |
| --- | --- |
| Nearby Points of Interest | |
---
Copyright © 2011-16 Benjamin Prepelka
All Rights Reserved