Scenic USA - Massachusetts

Boston National Historical Park
---
---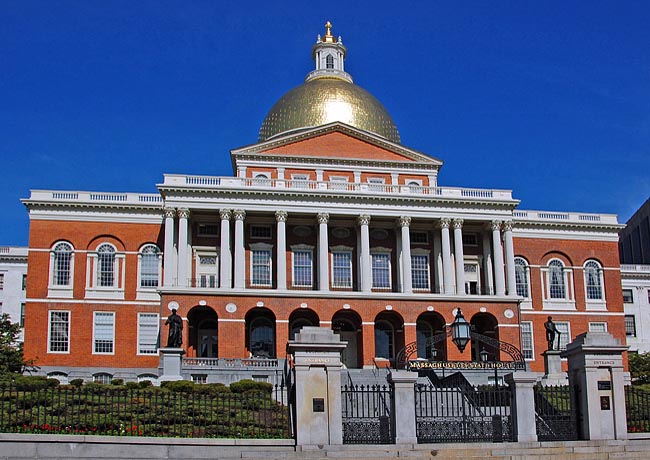 In keeping with the spirit of America's 1876 centennial celebrations,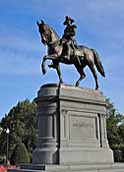 Bostonians began the process of saving the city's key Colonial Era buildings. To ensure further preservation of these historic structures and this large part of America's heritage, Congress established the Boston National Historical Park. Created in 1974, just in time for the America's Bicentennial, the park offers a mixture of historic sites that include famous churches, meeting halls, battlegrounds and America's oldest commissioned warship.
   One of the best ways to experience historic Boston and all the sights, sounds and pleasant cafe aromas, visitors are invited to follow Boston's Freedom Trail. First proposed in 1951 by the Old North Church sexton Bob Winn, the two and a half mile route is best experienced on
foot. Because parking is limited in the city, public transportation is highly encouraged ... but just west of the State House on Beacon Street you may find an empty slot in long line of metered parking spaces. For serious history buffs there are many guided tours of Boston. But as a casual tourist and willing to navigate the Freedom Trail on your own, a few of the "must see" stops include Faneuil Hall and Quincy Market. Here, market stalls on the first floor still serve shoppers just as in the days of Paul Revere. A stop at the Granary Burying Ground reveals the gravesites of famous patriots, John Hancock, Paul Revere and John Adams.
The Old State House, built in 1713, served as both the seat of Colonial and state governments. Under its balcony, marked with a circle of cobblestones, is the site of the Boston Massacre. To the north, the Christ Church, better known as the Old North Church, was memorialized in Longfellow's poem, The Midnight Ride of Paul Revere.
   After a walk around the center of town for a few hours, the sites of the USS Constitution Center
and Bunker Hill across the Charles River may no longer be within walking distance. Parking here may still be problematic, but don't pass on a chance to experience a first-hand look at the famed warship USS Constitution. Guided tours, led by Coast Guard personnel, lead down into the ship and offer a glimpse of service life aboard an 18th century warship. The Bunker Hill Monument, nearby the Charlestown Navy Yard, was dedicated in 1843. Commemorating the revolution's first major battle, visitors may climb the 221 foot granite obelisk.
For those unfamiliar with Boston, the National Park Visitor Center is located in Faneuil Hall at 4 South Market Building. This is the perfect place to get started on your journey through the pages of Boston's history.

    Freedom Trail Map
---
| | |
| --- | --- |
| Additional Points of Interest | |
---
Copyright © 2011-16 Benjamin Prepelka
All Rights Reserved