Scenic USA - Montana

Upper Missouri River
---
---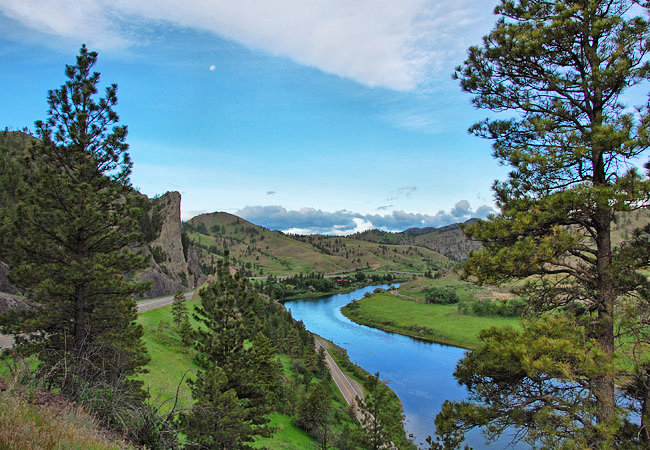 With its headwaters in Montana's Rocky Mountains near I-90, the Missouri River, often called the Mighty Mo and Big Muddy, weaves its way across the Great Plains for 2500 miles.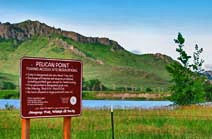 Its tricky currents and ever changing course prompted early explorers and fur traders to call it "Old Misery". Like a modern highway, the Missouri was used by Native Americans for centuries before the arrival of European explorers and the most notable Lewis and Clark Expedition.
Today the river's wild wonderings have been tamed by 15 major dams. One 150 mile section of the river, protected as the upper Missouri National Wild and Scenic River, remains in its near natural state.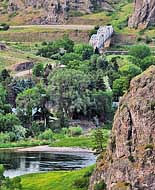 This popular paddling section of the eastward flowing river begins near Great Falls, running from Fort Benton to the Fred Robinson Bridge.
Here at Great Falls, I-15 follows the Missouri southward for 40 miles. Because of easy exit access points, camping areas and the river's excellent fishing, this section of the Upper Missouri is the top recreation area near Grand Falls. A secondary highway parallels I-15, following the river valley. Called the Missouri River Recreation Road, this two-lane route provides river views not seen from the interstate.
Offering starting points for river paddlers and a chance to fulfill an angler's quest for a trophy trout, Pelican Point, Wolf Creek Bridge, Holter Lake, Hardy Bridge and Prewett Creek are among the area's most popular destinations.

Area Map
---
| | |
| --- | --- |
| Additional Points of Interest | |
---
Copyright © 2013-15 Benjamin Prepelka
All Rights Reserved