Scenic USA - New Hampshire
Each day Scenic USA presents a new and exciting photo feature from somewhere in the United States. Chosen from a wide variety
of historic sites, city scenes, backcountry byways, points of interest and America's best parklands, this site offers the viewer hundreds
of unique vacation destinations and photographic subjects. Each feature is coupled with a brief explanation. For further detailed
information, links to other sites are provided, but are never to be considered an endorsement.
Baby Flume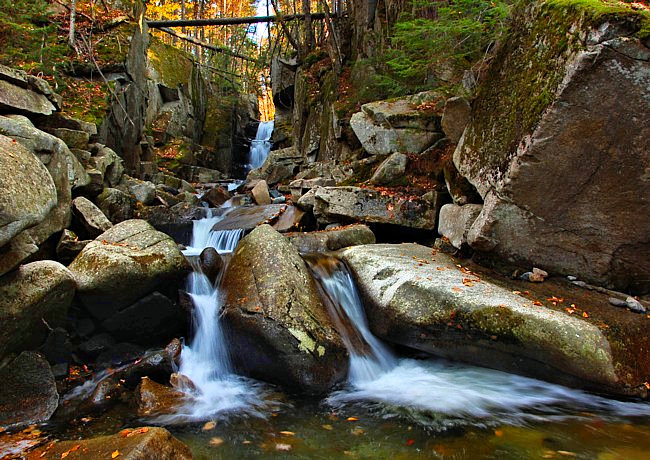 North of the White Mountains, New Hampshire's true wilderness begins. Here in the Great North Woods Region much of the land is open for recreational use and features a landscape of water and forestland. Among its high mountain peaks a string of lakes mark the beginning of the Connecticut River. The 98 mile Moose Path Trail and Cultural Byway, near the French-Canadian border, not only offers a look at this grand scenery and the area's wildlife, but a mix of French and English cultures and hotly debated politics. Here in Dixville Notch, residents are among the first to cast their votes in the U.S. Presidential Primary.
Dixville Notch, also a stop on the Moose Path Trail, is the northernmost mountain pass in New Hampshire. From an elevation of 1500 feet, the most apparent Notch rises nearly another 400 feet to its high point.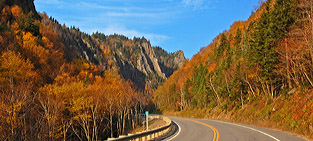 Sheer cliffs mark the edges of the Notch (inset) and are most spectacular in the autumn season when the mountainsides are full of bright foliage. Just to the south of the pass, two roadside picnic areas offer a pleasant roadside park to enjoy Dixville Notch scenery and two picturesque waterfall settings. To the southwest of the highway is the Cascade Brook Picnic Area and Huntington Falls. To the northeast is the Baby Flume Picnic Area. Pictured here is Baby Flume, a miniature gorge and fast flowing creek. These two roadside park areas encompass 137 acres and make up the Dixville Notch State Park.
Copyright © Benjamin Prepelka
All Rights Reserved