Scenic USA - Hawaii
Scenic USA offers a collection of select photographs from a wide variety of attractions, points of interest, historic sites, state and
national parks found throughout the United States. Each photo feature is coupled with a brief explanation.
For further detailed information, links to other related sites are provided.
Ninini Point Lighthouse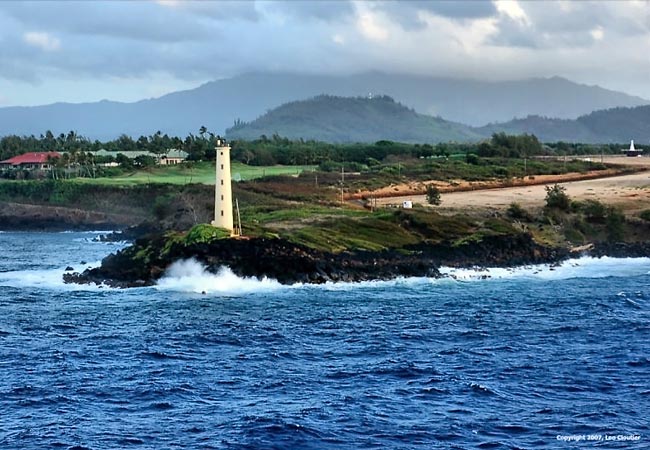 The Hawaiian Island of Kaua`i had no natural harbor, so dredging out a section of Nawiliwili Bay opened up the bay to shipping. Ninini Point, situated on the northern entrance to the bay, became a natural lighthouse site. Increased maritime traffic led to the first lighthouse, a wooden structure erected in 1897. Several lighthouse towers occupied the point until the U.S. Government erected the present day 86 foot, reinforced concrete lighthouse tower in 1932.
A part of Nawiliwili Harbor Lighthouse history tells of the shelling of the Ninini Point from a Japanese submarine. The lighthouse escaped major damage and came back on-line after World War II. Automation took place in 1953, along with the majority of America's lighthouses. The lighthouse suffered its biggest disfigurement when the lantern room and Fresnel lens were removed in 1984. Progress saw an upgraded DCB-36 beacon installed, stripping the tower of its hallmark crown. Now, an otherwise plain lighthouse rests on a beautiful section of Kaua`i's shoreline just south of Lihu`e.
Copyright © 2009 Benjamin Prepelka
All Rights Reserved