Scenic USA - New Jersey
Each day Scenic USA presents a new and exciting photo feature from somewhere in the United States. Chosen from a wide variety
of historic sites, city scenes, backcountry byways, points of interest and America's best parklands, this site offers the viewer hundreds
of unique vacation destinations and photographic subjects. Each feature is coupled with a brief explanation. For further detailed
information, links to other sites are provided, but are never to be considered an endorsement.
Clinton Historic District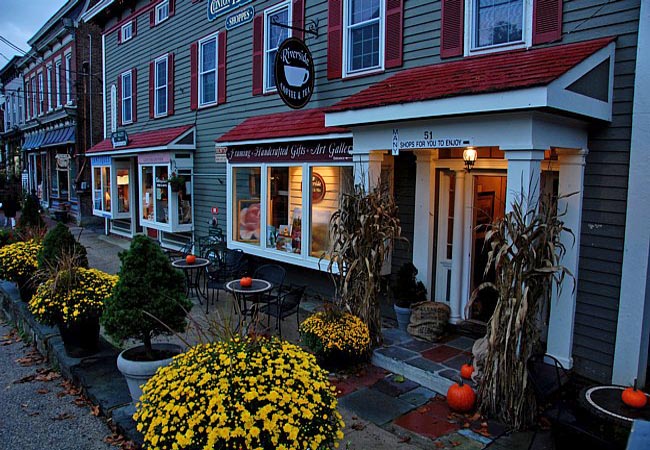 Located in New Jersey's Skylands region and the rolling hills of the northwest, Clinton is a picture perfect hamlet of cherry tree lined streets and a charming historic district. Nestled among the hills, the historic district of Clinton lines both sides of the South Branch Raritan River. Named for New York's Governor DeWitt Clinton, the town was incorporated in 1865.
Long before the town was officially established, large tracts of acerage were purchased and newly established grist mills kept busy as early as the mid 1700s.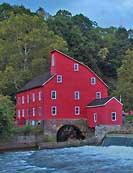 One of today's most familiar landmarks in town is the Red Mill, built in 1810. The woolen mill provided employment, aiding the growth of this small town. Just across the river sits the Stone Mill, now home to the Hunterdon Art Museum. The former grist mill dates back to 1836, and operated continuously until 1952.
Pictured here is a morning view of a few Main Street shops, adjacent the steel bridge that crosses the Raritan River. Early risers pull into town for a cup of hot coffee or a bite in one of the eateries in this laid back section of town. The river, a picturesque waterfall and a gathering of Clinton ducks provide plenty of peaceful scenery. It's hard to imagine that Clinton is just a short distance from a very busy Interstate 78 corridor.
Copyright © Benjamin Prepelka
All Rights Reserved