Scenic USA - Utah

Island in the Sky
---
---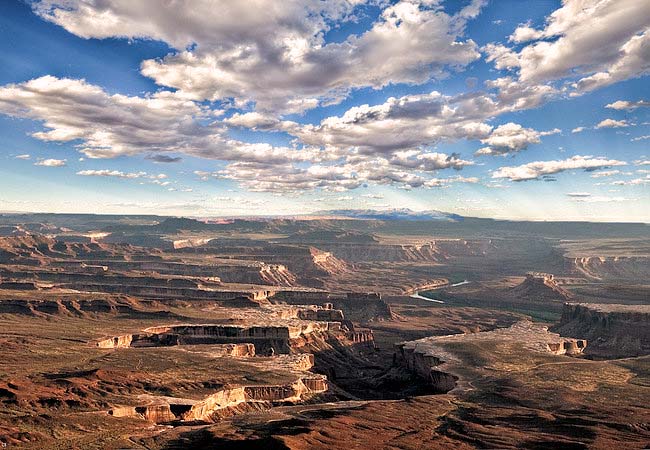 Canyonlands, a name that truly fits this incredible national park! Here in southeastern Utah, this topographical marvel is best seen from numerous pullouts and overlooks in the Island in the Sky district. For centuries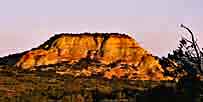 the Colorado and Green rivers have been carving out a V-shaped mesa in the Colorado Plateau, and now the Island is surrounded by 1000 foot sheer sandstone cliffs. These huge gaps in the earth stretch out for a 100 miles from rim to rim, a most breathtaking sight that brings out a string of emotions from first time visitors.
Outside the park, majestic mountain ranges in the distance add another layer of beauty to this red rock desert. While these mountains are layered in forests of pine and fir, the slickrock slopes in the park remain barren. An occasional ravine, river wash, small crack or crevice invite a patch of Indian ricegrass, solitary clumps of wild flowers and the hearty juniper and pinyon pine. After one grows accustom to the grandeur of the dramatic canyons, a huge assortment of unusual rock formations take center stage. The incredible mix of natural arches, spires, needles and buttes attract everyone's gaze, and visitors scramble to get a close up look at these natural wonders.
Numerous trails and four-wheel-drive roads allow Island in the Sky visitors to enjoy as much or as little of the park that time permits.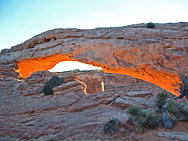 Short mesa top trails include enchanting Mesa Arch, a hilltop wonder at Aztec Butte, and a bizarre Upheaval Dome. Longer trails, for those anticipating a day of four-wheeling, include the winding Shafer Trail, White Rim Road, and a combination of these which lead down to Lathrop Trail and a riverside view of the Colorado. If you enjoy Canyonlands scenery, the Island in the Sky District is a fantastic introduction to the entire park. More of these dramatic Canyonlands and enchanting scenic wonders await at the Needles and Maze districts.

Directions
---
| | |
| --- | --- |
| Nearby Points of Interest | |
---
Copyright © 2012-16 Benjamin Prepelka
All Rights Reserved