Scenic USA - Kansas
Scenic USA offers a collection of select photographs from a wide variety of attractions, points of interest, historic sites, state and
national parks found throughout the United States. Each photo feature is coupled with a brief explanation.
For further detailed information, links to other related sites are provided.
Marysville Station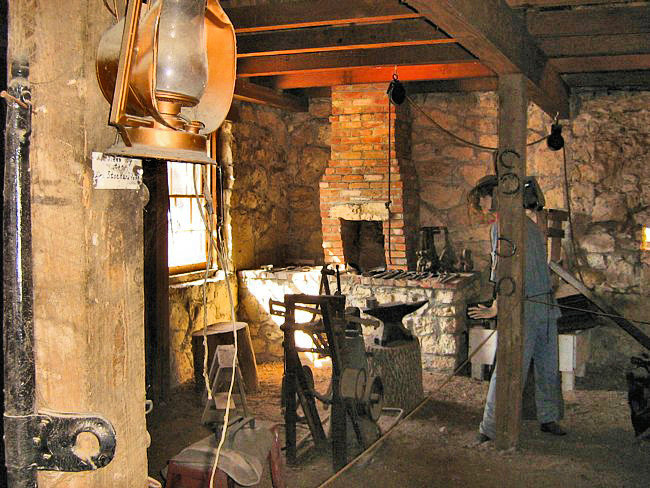 On April 3rd, 1860, the Pony Express began its ten day mail service between St. Joseph, Missouri and Sacramento, California. Looking for a lucrative federal mail contract, the Russell, Majors and Waddell Company quickly set up 190 relay stations and hired on 100 young riders for their new mail delivery service. Covering 1,840 miles, the Pony Express shaved 18 days from the average Overland Stage delivery time. Lasting just 18 months, the Leavenworth & Pike's Peak Express Company became legendary with its courageous young riders galloping across the Great Plains with their all important leather mochila draped over the saddle.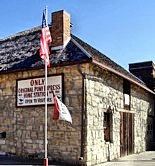 Pictured here is the only remaining Pony Express Station. Completed just prior to the inauguration of the Express, the Marysville Station was known as relay station 1. Now a museum, the Kansas station received a refurbishment in 1991. Exhibits include a blacksmith shop, Express rider bunks, original post office mail boxes, original artwork and statuary, and a replica Overland stagecoach.
Each year the National Pony Express Association recreates a commemorative re-ride over the original route, taking the same 10 day period. Over 550 riders participate in the eight state event and ride 24 hours every day until the letter laden mochila is delivered.
Copyright ©2008 Benjamin Prepelka
All Rights Reserved