Scenic USA - Washington
Scenic USA offers a collection of select photographs from a wide variety of attractions, points of interest, historic sites, state parks and
national parks found throughout the United States. Each photo feature is coupled with a brief explanation.
For further detailed information, links to other related sites are provided.
Point Wilson Lighthouse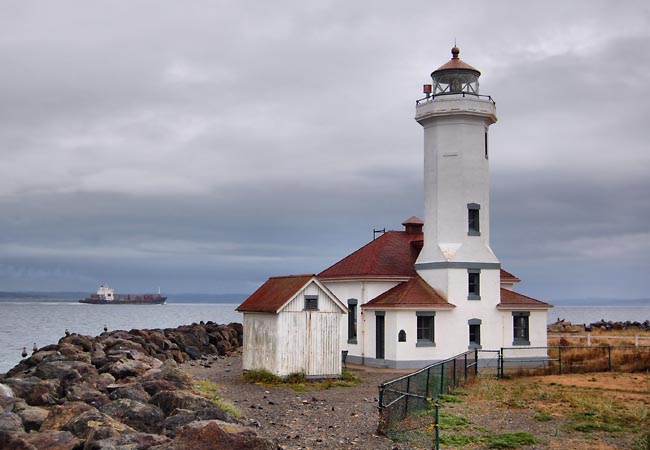 Point Wilson Lighthouse, a strategic prominent on the Olympic Peninsula, marks the beginning of Admiralty Inlet. Three forts watched over the inlet entrance and the Puget Sound, protecting the main shipping channel and maritime interests in the Seattle-Tacoma area,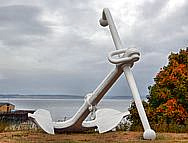 As one could easily imagine, the point of land had to be marked with a lighthouse. Sharing this sandy peninsula with Fort Worden and the town of Port Townsend, the Point Wilson Lighthouse is the second beacon built on the point. Standing as a lonely sentinel, the lighthouse has been battered and flooded by stormy seas on numerous occasions. But the octagon shaped lighthouse, built in 1914, was well designed and faired well over the last century.
Today, the Point Wilson Lighthouse continues its duties as navigation beacon, sending its 60,000 candle power beam into the inlet for 16 miles. The lighthouse is still operated by the U. S. Coast Guard, albeit a remote operation. With coast guard personnel no longer living at Point Wilson, the State of Washington has issued overtures to incorporate the light-station with nearby Fort Worden State Park. In the meantime, the station is maintained by the Coast Guard Auxiliary and remains closed to the public.
Copyright ©2010 Benjamin Prepelka
All Rights Reserved