Scenic USA - Kentucky
Scenic USA offers a collection of select photographs from a wide variety of attractions, points of interest, historic sites, state parks and
national parks found throughout the United States. Each photo feature is coupled with a brief explanation.
For further detailed information, links to other related sites are provided.
Colville Bridge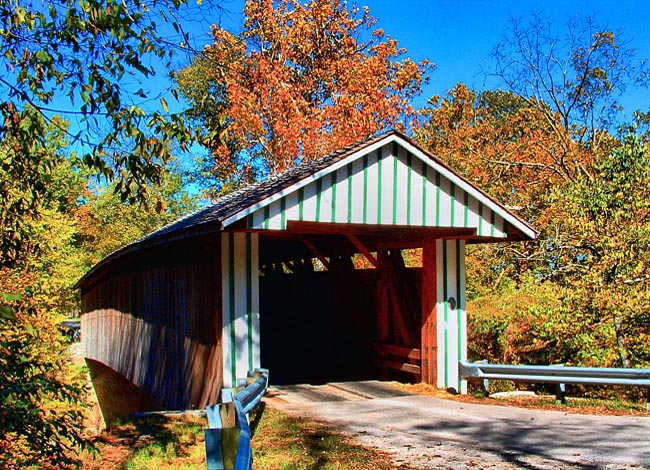 Still part of the highway system, this 133 year old Bourbon County bridge is one of a dwindling group of Kentucky's covered bridges. Reaching their height of popularity in the 1820s, Kentucky boasted more than 400 of these historic wooden bridges. Sadly, many of the historic treasures were destroyed during the War Between the States.
Bourbon County's sole survivor continues to carry traffic over Hinkston Creek. The Colville Bridge, repaired and restored over the years, was once damaged by an overloaded truck in 1937. Recently, the bridge was nearly destroyed by 1997 flood waters.
The Colville Bridge is well off the beaten path in northeastern Kentucky and can be a little difficult to find. Located in a peaceful setting northwest of Millersburg, the bridge is part of a bridge tour but lacks direction signs. Bridge hunters are directed to head west on Millersburg/Ruddles Road (SR 1893) south of Millersburg, turning right on Coleville Road (unsigned SR 3118). Although once a toll bridge, you won't have to wait until Sunday to avoid payment.
Copyright ©2010 Benjamin Prepelka
All Rights Reserved