Scenic USA - Indiana
Scenic USA offers a collection of select photographs from a wide variety of attractions, points of interest, historic sites, state and
national parks found throughout the United States. Each photo feature is coupled with a brief explanation.
For further detailed information, links to other related sites are provided.
Nickle Plate Road 765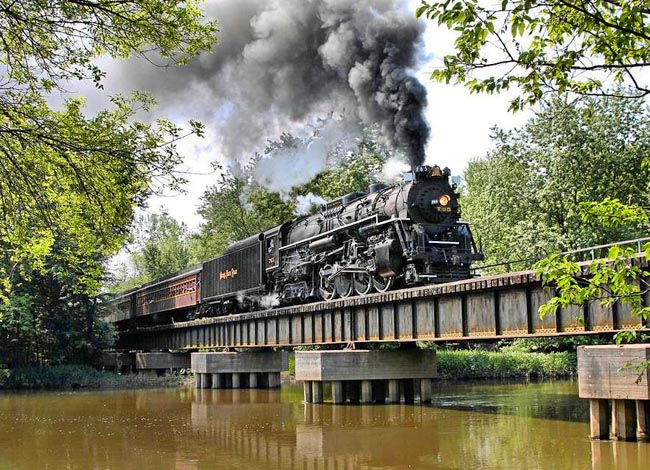 The pride of the fleet, this Hoosier Valley #765 is caught in a blast of steam over Indiana's Kankakee River. Returning to service on Memorial Day weekend, 2009, the Nickel Plate Berkshire powered this excursion train from its home, the Hoosier Valley Railroad Museum, to La Crosse, Indiana. One of only 20 remaining steam locomotive of this class of Berkshires, the #765 is well known for its superpower design. Looking to improve on speed and power, the Lima Locomotive Works soon discovered its new design created problems in keeping up steam and wheel slippage. Their answer was a larger firebox. The additional weigh required another set of wheels, pushing the 2-8-2 Mikado class to a 2-8-4 wheel arrangement. After a few test runs through the Berkshire Hills, this new class of locomotive was dubbed the Berkshire.
This 400 ton, 65 year old steam engine spent only 13 years of service out of the Fort Wayne depot. Modern diesel powered locomotives pushed the #765 off the tracks to a static display in Lawton Park. Catching the interest of the Fort Wayne Historic Society, the Nickel Plate 765 became the focus of a restoration project. Now the Nickel Plate Road 765 is back in service, high-stepping through the Hoosier Valley.
Copyright ©2009 Benjamin Prepelka
All Rights Reserved