Scenic USA - Alaska
Scenic USA offers a collection of select photographs from a wide variety of attractions, points of interest, historic sites, state parks and
national parks found throughout the United States. Each photo feature is coupled with a brief explanation.
For further detailed information, links to other related sites are provided.
Mt. McKinley - The Great One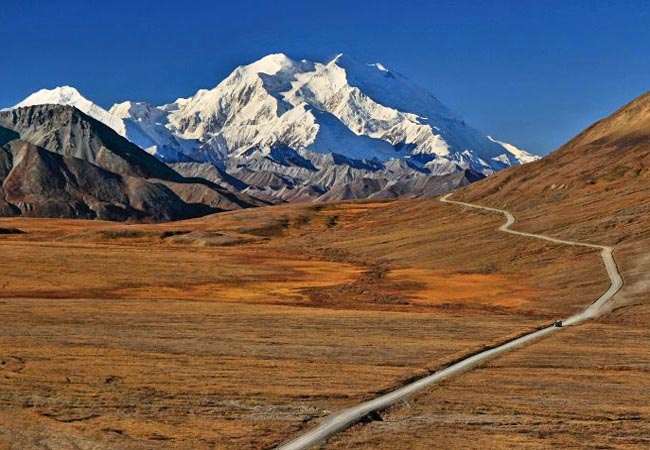 Mount McKinley, The Great One, is Alaska's highest peak, as well as the tallest in North America. The South Peak, 320 feet higher than the North, tops out at 20,320 feet. This majestic mountain, referred to as Denali by most Alaskans, is one of the highlights at Denali National Park. The peak is characterized by its extremely cold temperatures. The climb is sometimes seen as a training ground for Mount Everest. With its higher latitude, its oxygen content is reduced by 5 percent. Most climbers ascend McKinley by way the West Buttress route, relatively hazard free. Because of the large number of middle-aged amateur climbers, the West Buttress route is seen by some as the mid-life crisis climb. All kidding aside, the route is very challenging and a few of the most experienced climbers have died on the way.
Obscured by clouds, often times Denali National Park visitors miss seeing the peak. Occasionally, park guests are focused more on viewing the notable big five. Seeing the wolf, moose, Dall sheep, caribou and grizzly bear make for a memorable experience.
Copyright ©2008 Benjamin Prepelka
All Rights Reserved