Scenic USA - Georgia
Each day Scenic USA presents a new and exciting photo feature from somewhere in the United States. Chosen from a wide variety
of historic sites, city scenes, backcountry byways, points of interest and America's best parklands, this site offers the viewer hundreds
of unique travel destinations and vacation ideas. Each feature is coupled with a brief explanation. For further detailed information, links
to other related sites are provided, but are never to be considered an endorsement.
Long Creek Falls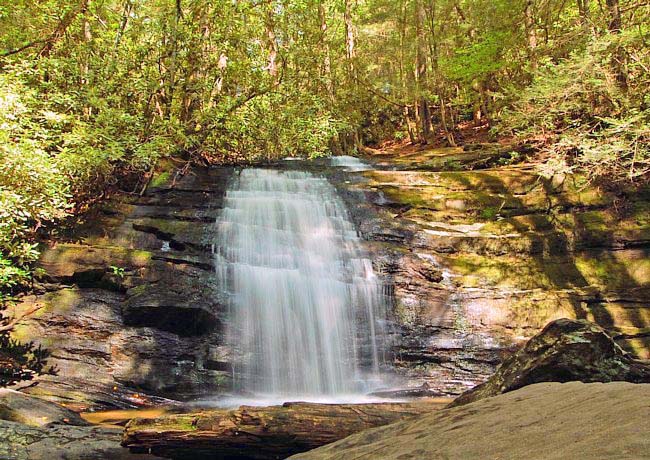 Two of the most famous hiking trails in the east begin in Georgia's Fannin County from the top of Springer Mountain. Extending from northern Georgia to Maine, the 2100 mile Appalachian Trail (AT) and the 300 mile Benton MacKaye Trail begin in this rugged section of the Chattahoochee National Forest.
Just a little more than four miles from Springer Mountain, AT hikers will cross Noontoola Creek.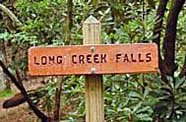 Here in the Blue Ridge Wildlife Area, forests of southern pine, hemlock, sugar maple and tulip poplar tower over a rooted trail that's often softened with pine needles and lined with rhododendron.
For those AT hikers that get a late start in the morning, a Chester Creek milestone may mark the midday hour. This favorite access point allows casual day hikers an easy route northward along the AT to Long Creek Falls. In just about three-quarters of a mile northward, a short spur leads out to one of North Georgia's most picturesque waterfall settings. During mid-summer, AT hikers may enjoy the cool air rising up from the pool below the falls. Along the trail, paralleling Long Creek, hikers may hear several cascades, but signs will point out the well worn side trail to the falls. Who knows, maybe this short hike will inspire you to take on the entire Appalachian Trail.
Copyright © Benjamin Prepelka
All Rights Reserved