Scenic USA - Indiana
Each day Scenic USA presents a new and exciting photo feature from somewhere in the United States. Chosen from a wide variety
of historic sites, city scenes, backcountry byways, points of interest and America's best parklands, this site offers the viewer hundreds
of unique travel destinations and vacation ideas. Each feature is coupled with a brief explanation. For further detailed information, links
to other related sites are provided, but are never to be considered an endorsement.
Chain O Lakes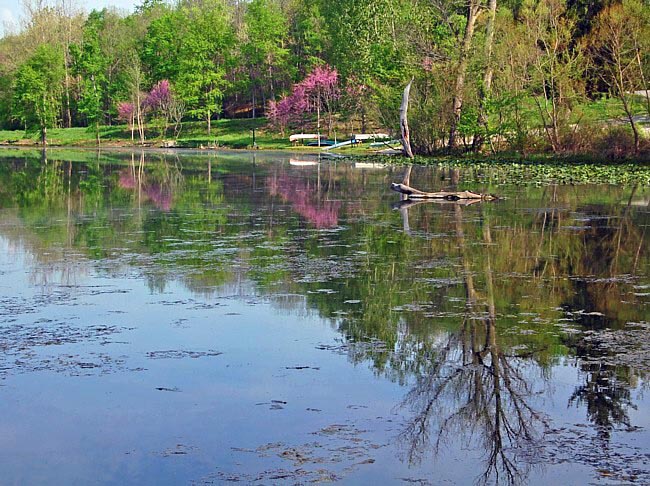 Located in northeastern Illinois, the Chain O Lakes State Park is located in the heart of the state's largest concentrations of lakes.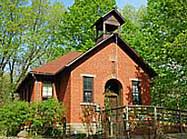 This series of ten lakes, connected by the Fox River, are of glacial origin. Large chunks of glacial ice were buried by receding ice sheets and later melted, forming what are called kettle lakes. As one would easily guess, the Chain O Lakes Park is all about water activities. Boating, swimming and fishing take top billing in the summer. In the winter, when the lakes are frozen over, ice skating and ice-fishing are some of the favorite pastimes.
About 80 acres of parkland has been set aside as a nature preserve. Forest areas cover a large portion of the park,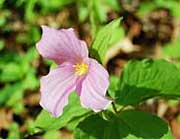 offering an opportunity to explore the park's woodlands over four trail systems. Campsites and cabins are also nestled in a mature forest of oak, hickory, maple and beech. Wild flowers and wildlife are scattered throughout the forest floor. The nature center utilizes the 1915 Stanley Schoolhouse, where park exhibits, live animals, and a touch table entertain local area school children. The center of the classroom displays original school desks, chalkboard and maps. Although the park primarily focuses on a chain of lakes, there are plenty of land-based areas to explore. Located near the Chicago area, the park is open every day except Christmas and offers plenty of family fun.
Copyright © Benjamin Prepelka
All Rights Reserved