Scenic USA - Massachusetts
Scenic USA offers a collection of select photographs from a wide variety of attractions, points of interest, historic sites, state and
national parks found throughout the United States. Each photo feature is coupled with a brief explanation.
For further detailed information, links to other related sites are provided.
Harvard Yard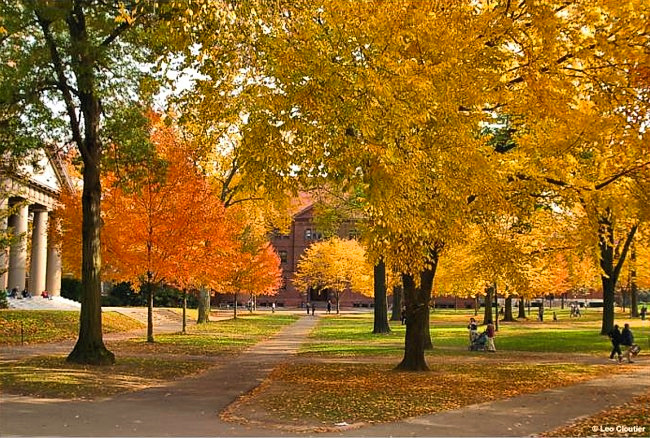 Cambridge, located in the Greater Boston area, was once called Newe Towne, first settled in 1630. Far from sounding distinctive, the town was soon renamed after England's university of Cambridge. Looking back, the name was a fitting change as two of America's most prominent universities, Harvard and MIT, are located in Cambridge.
Harvard, the oldest school of higher learning in America, pushes toward 365 years of age. Founded just 16 years after the Pilgrims arrived, Harvard is extremely proud of its past pupils, including seven presidents and more than 40 Nobel laureates.
This remarkable autumn view captures the tree canopy in Harvard Yard at its peak. The Yard, the largest and oldest space on campus, achieves a simplistic, yet majestic landscape. Enclosed by surrounding buildings, straight line paths, and a beautiful canopy of trees, the landscape becomes inseparable from the structures.
Keeping these mature trees healthy has been quite a challenge. Elm trees, suffering stress from construction, ice storms, and winter salt, have succumbed to Dutch elm disease. Replacement trees, such as the red oak and honey locust, have been chosen for their elm-like character. Tulip popular, sugar maple and sugarberry are noted for their fall color.
Copyright ©2009 Benjamin Prepelka
All Rights Reserved