Scenic USA - Florida
Scenic USA offers a collection of select photographs from a wide variety of attractions, points of interest, historic sites, state parks and
national parks found throughout the United States. Each photo feature is coupled with a brief explanation.
For further detailed information, links to other related sites are provided.
Pensacola Bay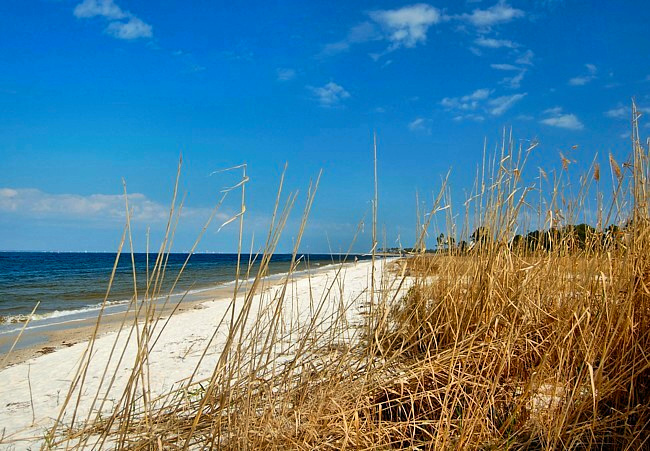 Stretching across the western most reaches of Florida's panhandle,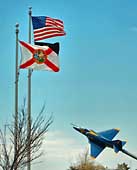 a thin band of sand extends along the coastline. These barrier islands, just a short distance from the mainland, create a natural breakwater for Pensacola Bay. With a convenient break between the islands, easy access from the bay to the Gulf of Mexico insures the prosperity of the city of Pensacola. This broad inlet was protected by shore battery at Fort Pickens. Built in 1829, the fort is now a historic site on Gulf Islands National Seashore.
Here in the Pensacola Bay area, visitors have a good chance to see aerial stunts performed by Blue Angels. The Blues, achieving speeds up to 700 miles an hour, practice a few days a week from March through November and perform two shows a year over the bay during July and November.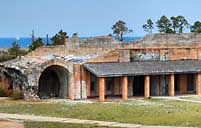 This view looks eastward to the city of Gulf Breeze and the Pensacola Bay Bridge (Three Mile Bridge). The Gulf Islands National Seashore area, well known for its brilliant white quartz beaches and inviting blue-green waters, was cut off from the mainland after Tropical Storm Ida and covered the highway with tons of sand. Just recovering from hurricanes Ivan and Dennis, the Gulf Shore Islands have a new access road, still needing constant maintenance from windswept sand.
Copyright ©2010-16 Benjamin Prepelka
All Rights Reserved