Scenic USA - New Mexico
Scenic USA offers a collection of select photographs from a wide variety of attractions, points of interest, historic sites, state parks and
national parks found throughout the United States. Each photo feature is coupled with a brief explanation.
For further detailed information, links to other related sites are provided.
Tent Rock National Monument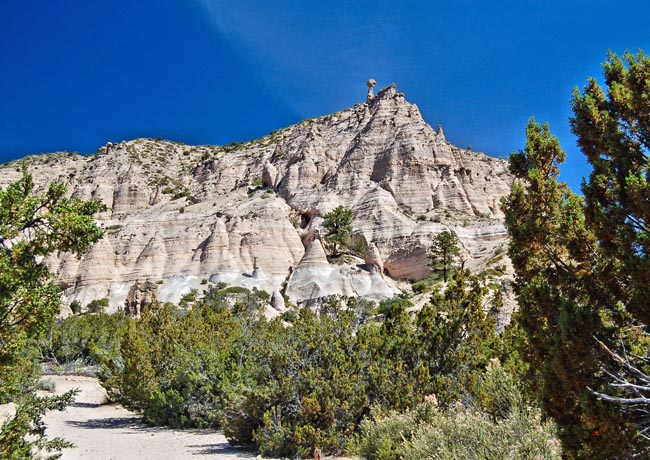 One of the last park-lands established during the Clinton Administration saw the addition of Tent Rocks to the BLM's National Landscape Conservation System. New Mexico's Kasha-Katuwe Tent Rock National Monument landscape was formed by volcanic eruption. Remarkable geologic circumstances left a collection of unusual tent shaped rock formations. The teepee shaped cones are made up of volcanic pumice and tuff. Spared from erosion by a hard caprock layer, the tent rock formations are what remains of the seven million year old eruption that laid down a pyroclastic deposit some 1,000 feet in depth.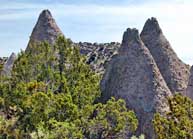 In the traditional language of the Pueblo de Cochiti, Kasha-Katuwe means white cliffs, evident in this view. The monument land is accessed through Cochiti tribal land and may be closed occasionally by order of the tribal governor.
The park may be explored by way of two hiking trails, where the hearty manzanita shrubs blanket the white cliffs with dots of vivid green. The Cave Loop Trail, the easiest, covers 1.2 miles. The Slot Canyon Trail is a one-way trip into a narrow canyon, followed by a steep climb to the mesa top.
Copyright ©2008 Benjamin Prepelka
All Rights Reserved