Scenic USA - Virginia

Fredericksburg National Military Park
---
---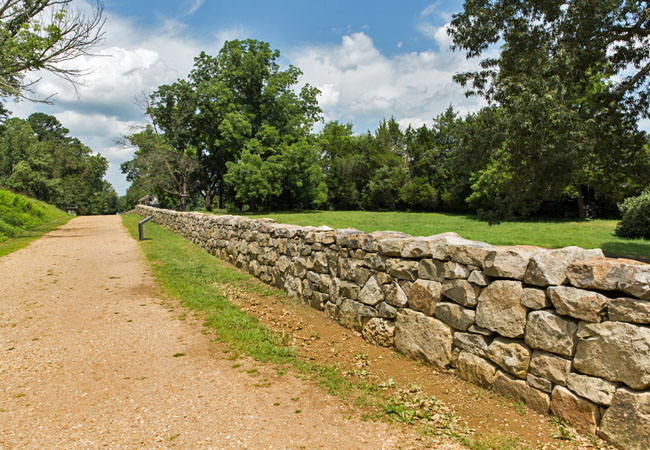 Appearing as a simple dry-stacked stone wall, here at the Fredericksburg Battlefield the restored wall is now a somber reminder of General Lee's most lopsided victory in the Civil War and the huge number of casualties suffered by General Burnside's Army of the Potomac.
As the Civil War lingered toward its third year, the overly-cautious Major General George B. McClellan was replaced by General Ambrose E. Burnside.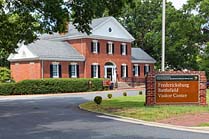 Hoping to put an end to the bitter struggle, Burnsides moved his newly inherited Army of the Potomac toward the Confederate capital city of Richmond. The new leader's strategy led to what is known as the first opposed river crossing in American history. With his sights set on Fredericksburg, Burnsides quickly moved his troops to Stafford Heights, just across the Rappahannock River from Fredericksburg. At first, Burnside's advance caught Lee's Army at a serious disadvantage. But, bogged down with miscommunication, poor weather and army inefficiencies, the arrival of engineers, pontooniers and pontoon bridges were delayed. By the time the bridges were set to be placed, the Confederates amassed their troops in Fredericksburg, taking the high ground and picking off bridge-builders on the river.
Once across the river, fighting in the streets of Fredericksburg proved to be one of the largest and most deadly battles of the Civil War.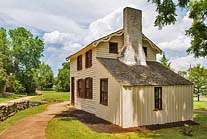 Just at the Marye's Heights wall alone, there were 300 Confederate casualties compared to the Union's 8000 losses, offering an example of General Burnside's rash military decisions. Roughly six weeks after the battle, General Ambrose E.Burnside was removed from that command.
The site of four major battles in just 18 months, Fredericksburg and Spotsylvania County Battlefields National Military Park is the second largest in the world. Each battlefield offers driving and walking tours. And because there is so much to see, the best place to plan your visit begins at one of the two visitor centers.

Lower inset - This frame building, known as the Innis (or "Ennis") House, stands as a mute witness to the terrible combat that engulfed this spot. Located on the Confederate line of battle, the small structure was marred by soldier graffiti and perforated by bullets and shell fragments. Confederate General Lafayette McLaws wrote that the house "had no space as large as two hands on it that had not been pierced." - NPS

Directions
---
| | |
| --- | --- |
| Nearby Points of Interest | |
---
Copyright © 2013-16 Benjamin Prepelka
All Rights Reserved