Scenic USA - Virginia
Scenic USA offers a collection of select photographs from a wide variety of attractions, points of interest, historic sites, state and
national parks found throughout the United States. Each photo feature is coupled with a brief explanation.
For further detailed information, links to other related sites are provided.
Assateague Island Lighthouse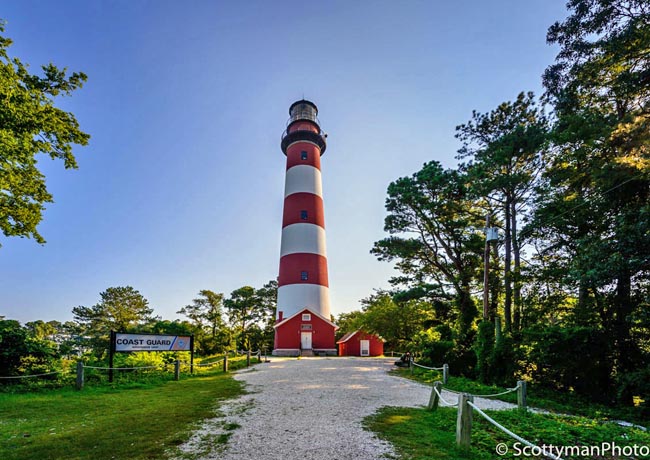 Assateague Island, Virginia, the site of Chincoteague National Wildlife Refuge, is home to a herd of

wild ponies, thousands of snowy egrets and huge tortoises, all living within the extensive wetlands and marshes.
The herd of wild ponies is kept at an almost constant count of 150 (a second herd of about 150 is maintained on the Maryland end of the Assateague National Seashore). The Annual Pony Swim, held the last week in July, is a major attraction as the ponies are driven across the channel to nearby Chincoteague Island to be checked for health and tagged. A few are sold at auction, and itís not unusual for buyers to relinquish their purchases, thus allowing those ponies to be returned to Assateague Island with the rest of the herd.
Another popular attraction for the thousands of visitors, who come to the island each year, is an old faded classic, the Assateague Lighthouse that's now owned by the U.S. Fish and Wildlife Service. The red-and-white striped lighthouse, built in 1867, stands 154 feet above sea level. About 27 feet in diameter at the base, the tower reaches a height of 142 feet and its beacon can be seen nearly 20 miles out in the Atlantic Ocean.
Copyright ©2007 Benjamin Prepelka
All Rights Reserved